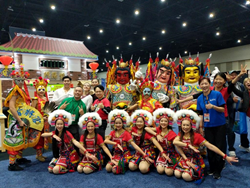 Los Angeles, California (PRWEB) February 17, 2019
A refreshing new year filled with great tourism offers! Taiwan Tourism Bureau is participating in the Los Angeles Travel and Adventure Show at the Los Angeles Convention Center (February 16 – 17,2019) . Reputable partners including Allstate Travel, Gala Holiday, Mango Tours, SuperValue Tours, SITA World Tours along with China Airlines, EVA Air and Tea Station will join forces with the Bureau at the Taiwan booth. Visitors can immerse in the theme of the internationally recognized slow city and a traditional Hakka village at booth, and learn about the unique charm of Taiwan small towns through fun activities. There will be exclusive Taiwan tour deals and don't miss out on a chance to win round trip flight tickets from China Airlines and EVA Air.
"This year, we are devoted in promoting Taiwan local culture and township. Our Taiwan Pavilion is inspired by the Zhiyang Gate of Miaoli Nanzhuang Lion's Head Mountain (Mt. Shitou); it is decorated with Hakka prints and bamboo snack stands where southern Californians will have a taste of our charming small towns. Great tour packages are offered by our partners, such as: 'The Ruisui Hualien Tour' by Allstate Travel that includes Los Angeles (or Ontario) to Taipei round-trip economy flight, 2 nights of hot spring hotel, and Puyuma Express ticket between Taipei and Hualien; the 'Taiwan Round-Island + Hong Kong/Bangkok/Vietnam Multi-destinations Value Package' by Gala Holiday; the '6-Day East Coast Tour' and the '7-Day West Coast Tour' by Super Value Tours that take you to explore the Chishang rice village and the Lukang township; SITA World Tours designed a new Taiwanese cultural and natural discovery tour that goes deep into Yilan city's Jimmy Park, the National Center for Traditional Arts, Beipu's Hakka culture in Hsinchu, the Sanyi Wood Sculpture Museum, Taichung Rainbow Village, and the Zushi Temple in Sanxia District. The tour will also showcase the cultural heritage of Taiwan bird carving crafts and Yingge pottery street; Mango Tours has an '8-Day Charming Taiwan Journey' through the Sun Moon Lake, Kaohsiung, the East Coast, Taroko, and more," says Mr. Brad Shih, director of the Taiwan Tourism Bureau Los Angeles office.
One of the most popular items at this year's Taiwan Lantern Festival in Dapeng Bay – a special edition piggy bank handheld lantern – will also debut at the event as giveaways. Tea Station specially created an interactive tea challenge game and will be offering pearl milk tea tasting at the Taiwan booth for visitors to experience traditional Taiwanese tea culture. STC Foundation, who has been featured in the Disneyland's Lunar New Year Procession for 9 years in a row, will be performing at the Global Beats Stage on February 16 at 11:30 AM. A musical feast consists of Taiwanese pop music, traditional folk instruments such as flute, erhu, and guzheng will also be available on February 17 at 12:30PM by the String & Bamboo Music.
Please check out our Facebook fan page at http://www.facebook.com/TourTaiwan for more great offers!