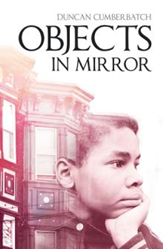 SOMERSET, N.J. (PRWEB) November 27, 2019
Amir and his college friends, associates and acquaintances navigate the minefield of the 1960s and 1970s in Philadelphia and America at large in Duncan Cumberbatch's new autobiographical narrative, "Objects in Mirror" (published by Archway Publishing).
A coming-of-age story about a group of dynamic and bold college friends and associates, the book draws from Cumberbatch's own experience to illustrate the group's maturation through self-discovery. Focusing on the main character, Amir, and filtering all the events through his perspective, the book utilizes Amir as kind-of author surrogate to tell Cumberbatch's own story. Besides Omar, Amir's best friend and "fellow traveler," the story features Fanny Mae, Amir's mother, who's an inspiration; Bill, Amir's father and role model; Melinda, whose beauty was a blessing and a curse; Biggy, a rock, and one of Amir's biggest fans and supporters.
"It is not preachy, it presents its characters in their fullness, warts and all," Cumberbatch says, adding that he believes the book's appeal is "Because it is both enjoyable and educational. It is happy and sad. Joyful and dramatic. Predictable, yet surprising. Real, yet optimistic and positive. Powerful and impactful, yet light."
"Objects in Mirror" is available for purchase online at: https://www.amazon.com/Objects-Mirror-Duncan-Cumberbatch/dp/1480878707.
"Objects in Mirror"
By Duncan Cumberbatch
Hardcover | 6 x 9 in | 340 pages | ISBN 9781480878716
Softcover | 6 x 9 in | 340 pages | ISBN 9781480878709
E-Book | 340 pages | ISBN 9781480878693
Available at Amazon and Barnes & Noble
About the Author
Born and reared in Pennsylvania, Duncan Cumberbatch is a proud Philadelphia native. He grew up in a loving, middle-class black family, attended local schools, received his training in university and his "education" in the streets.