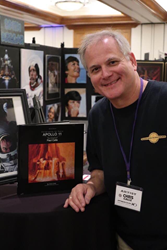 Get into Stamp Collecting -- it is a hobby for lifetime for all!
BELLEFONTE, Penn. (PRWEB) November 06, 2019
Experience the Expo — the philatelic event of the fall! The American Stamp Dealers Association, Inc., Northern Jersey Federated Stamp Clubs, Inc., the United States Postal Service, and eBay have once again partnered to host NOJEX/ASDA Postage Stamp EXPO, November 15–17, 2019, in East Rutherford, New Jersey. The show will be held at the Hilton Meadowlands Hotel, 2 Meadowlands Plaza, East Rutherford, NJ 07073. The doors open daily at 10 a.m. and admission is free. Friday and Saturday the show runs until 6 p.m.; Sunday until 3 p.m.
Dealers from across the nation and the world will be buying and selling — stamps, covers, postcards, and other philatelic material. Since it is an APS World Series of Philately Show, there will be exhibits and a full-schedule of events. Bring those stamps/collections that you have inherited or been storing for years to the show. Our free appraisal service will evaluate your material and advise you on what to do. All collectors and non-collectors are welcome.
Join the Celebration
The 2019 NOJEX-ASDA Postage Stamp EXPO in partnership with the USPS® is proud to announce a three-day philatelic celebration like no other — U.S. Battleships, the Transcontinental Railroad, and the First Moon Landing!
Each day of the show will spotlight a significant event in the history of the United States with a special cancel and cachet. On November 15, the USS Missouri will be celebrated with a USPS® Special Dedication Ceremony at 11 a.m. EST. November 16, the Transcontinental Railroad will be honored and on November 17, the First Moon Landing will be highlighted. Other exciting events are being planned for the show. Chris Calle, noted space artist, author, and son of Paul Calle, Apollo 11 artist, will be in attendance Saturday and Sunday with a display of space art and the lastest edition of Apollo 11.
The USS Battleship New Jersey Museum will have a booth. They will have a model of the famous battleship and a representative from the group will be giving a talk.
What To Do at the Show
Shop 'Til You Drop — Dealers will be buying and selling stamps and historic envelopes from across the nation and around the world — from vintage to modern, and more. Dealers participating in the show — AAA Stamp & Coin, A to Z Stamps, LLC, Bardo Stamps, Brian Hunt, C & D Philatelics, Champion Stamp Co., Daniel F.Kelleher Auctions, Dick Smith, Dutch Country Auctions/The Stamp Center, Eric Jackson, Fairwinds, Gary Posner, Inc., H.R.Harmer GPN, Inc., Henry Gitner Philatelists, Inc., Inter-Governmental Philatelic Corporation, James F. Taff, Labron Harris, Lighthouse Publication Inc., Long Island Philatelics, Mark Reasoner, Markest Stamp Co., Miller's Stamp Co., Mountainside Stamps, Coins & Currency, Mr. Z/Vogts Stamps & Coins, Negev Holyland/Button Stamp Company, Rasdale Stamp Co., Richard Friedberg Stamps, Rising Sun Stamps, Satchel Stamps, Stamps N Stuff, LLC, Stanley M. Piller & Assoc., The Classic Collector, The Excelsior Collection, The Gold Mine, Toga Associates, Victoria Stamp Co., Vidiforms, Walter Kasell, Wayne Gehret, and Weisz Stamps & Covers. https://www.americanstampdealer.com/SubMenu/NOJEX_ASDA_2019.aspx?id=506
Attend the United States Postal Service Special Dedication to the First Responders Ceremony — The USPS™ will celebrate the USS Missouri with a special ceremony, Friday, November 15 at 11 a.m. The stamps and more will be available at the USPS™ Booth. The celebration will feature a special guest from the US Battleship New Jersey.
Bid at Live Auctions — The H.R. Harmer Auction Sale #3030 will feature the Eldon Mohler Collection of U.S. Cacheted First Day Covers (Part 1), Saturday, November 16. Lot viewing will be available at the show all day Friday and until noon on Saturday. Mr. Mohler's vast holding includes the works of all of the most significant first day cover artists of the 20th Century, including comprehensive collections of Dorothy Knapp, B.R. McIntyre, George Laffert, Bernard Goldberg, R.C. Beazell, Dyer, and numerous others. Many of these unique covers have been off the market for decades, and we anticipate that their reappearance at public auction will elicit considerable excitement from the philatelic community. Mr. Mohler's collection contains the greatest collection of Art Cover Exchange hand painted covers ever assembled. There are over 2,000 mostly unique covers, highly prized and seldom offered. For more information, visit http://www.hrharmer.com.
The House of Zion Public Auction #105 for Charity will feature more than 350 lots of Holyland, World War I, Palestine, 1948, Israel, Judaica, Holocaust, Arab-related, dealer lots, and collections. The Auction will be held on Sunday, November 17. Lots available for viewing during the show.
View the Exhibits — An amazing array of stamps, covers, and other philatelic material will be on display.
Attend Meetings and Seminars — The show schedule is full of interesting and entertaining seminars, including one on How to Buy and Sell on eBay. In addition, specialty societies will be holding meetings.
Visit Society Booths — The following societies will be at the show — American Association of Philatelic Exhibitors, American First Day Cover Society, American Philatelic Society, American Topical Association, British North America Philatelic Society, Canal Zone Study Group, Collectors Club of New York, Ebony Society of Philatelic Events & Reflections (ESPER), German Colonies Collectors Group, Mobile Post Office Society, North Jersey Federated Stamp Clubs, New Jersey Postal History Society, Philatelic Foundation, Royal Philatelic Society, Society of Israel Philatelists, and the USS Battleship New Jersey.
Kids, Get Into Collecting — Each child ages 6–10, who is accompanied by an adult, will receive a free gift while supplies last.
Be sure to pick up some souvenirs of your time at the show — stop by the ASDA Booth.
Got Stamps and Don't Know What To Do with Them?
Take Advantage of the Free Appraisal Service — Bring in those stamps/collections that you have inherited or been storing for years. This free service will put a value on your material and advise you on what to do. The appraisal service will be open for business from 10 a.m.–3 p.m. each day of the show. To participate in this service, check in at the ASDA Booth located at the show entrance.
Get into collecting at the NOJEX/ASDA Postage Stamp Show — November 15–17 at the Hilton Meadowlands Hotel, East Rutherford, New Jersey. Explore the wide, wonderful world of collecting — a hobby for a life time! We look forward to seeing you.
Visit http://www.americanstampdealer.com and nojex.org for all you need to know about the show — schedule of events, dealers, in attendance meetings and seminars, special events, and more. Follow the American Stamp Dealers Association on Facebook @americanstampdealersassociationinc.