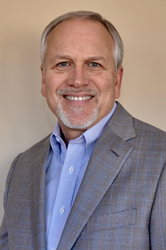 I'm an experienced business owner and coach and I'm looking forward to using The Growth Coach's proven systems and programs to help business owners and company leaders in my community build stronger businesses without sacrificing work-life balance. - Jeff Roberts
OVERLAND PARK, Kan. (PRWEB) March 24, 2020
Experienced business coach and executive leader Jeff Roberts is pleased to announce the launch of his new business, The Growth Coach of South West Kansas City.
The Growth Coach is the largest provider of affordable group coaching workshops in the nation, but coaches also offer group and one-on-one coaching for sales professionals, managers, management teams, self-employed professionals and more through a wide variety of programs through three industry-leading series – their Foundational Series, Fundamental Series and Fast Forward Series. The Growth Coach's mission is to help business leaders build more successful business and more balanced lives. Roberts will be serving Johnson County, including Overland Park, Lenexa, Leawood, Shawnee and the surrounding areas, such as Lawrence.
"The Growth Coach's programs are all about mindset and finding ways to step back so you can work on your business instead of in your business. You have to be able to see where you are and have a vision for where you want to be so you can take steps toward your goals. The power is in intentionality and accountability and that's where working with a coach can make a big difference," Roberts said.
Roberts has more than 30 years of experience managing financial and business operations for a leading insurance agency, where he achieved impressive revenue growth by establishing new offices in Arkansas and Oklahoma. He has been recognized for leading multimillion-dollar mergers and acquisitions that provided business development, drove market share and surpassed revenue targets. In addition to his extensive corporate background, Roberts has been a business owner and is an expert business coach with experience in strategic planning, organizational leadership, sales management and staff training.
"The opportunity to take my years of personal experience in insurance consulting, business ownership, management, and mergers & acquisitions to help others is very exciting and fulfilling. There is nothing more powerful than to help others grow and develop into everything they can and want to be," Roberts said. "I'm an experienced business owner and coach and I'm looking forward to using The Growth Coach's proven systems and programs to help business owners and company leaders in my community build stronger businesses without sacrificing work-life balance."
As a Growth Coach, Roberts is certified in The Strategic Mindset coaching process, which adheres to the standards, practices and policies that the International Coaching Federation has set forth in their Code of Professional Standards and Ethics. The company's landmark Strategic Mindset Process is so effective that it comes with a money-back guarantee.
The Growth Coach, founded in Cincinnati, Ohio, sold its first franchise in 2003, but its leaders have a successful 20-year track record of helping business leaders find success and balance. Today the business and sales coaching franchise is in more than 100 markets worldwide. The Growth Coach was included in Bond's "Top 100 Franchises" and recognized in Entrepreneur Magazine's "Franchise 500" and "Best of the Best," in USA Today and has been featured on FOX, CBS and NBC.
For more information about how The Growth Coach of South West Kansas City can help you and your business, call 913-329-5012, email JRoberts@TheGrowthCoach.com or visit http://www.TheGrowthCoachSWKC.com.
ABOUT THE GROWTH COACH
The Growth Coach was founded in Cincinnati in 2003 and is the only pure business and sales coaching franchise aimed at driving success while balancing the lives of business owners, managers, sales people, self-employed professionals and executives across a wide spectrum of businesses and industries. The Growth Coach specializes in group workshops and individual coaching with the goal of helping clients gain greater focus and leverage to work less, earn more and enjoy more fulfilling lives. The Growth Coach is active in more than 100 markets in the United States and abroad and is always looking to expand domestically and internationally. For more information, visit http://www.TheGrowthCoach.com.