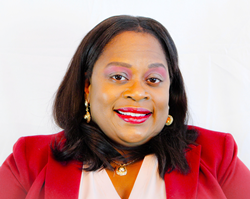 The Growth Coach's variety of programs – from Strategic Business Owner, to Sales Mastery, to Teambuilding, to Professional Credits and everything in between – are designed to work together to help business owner and company leaders build better companies and more balanced lives. - T'Kenya Miller
CHICAGO (PRWEB) February 13, 2020
Chicago resident and long-time consultant and coach T'Kenya Miller is pleased to announce the launch of her new business and sales coaching company – The Growth Coach Heart of Chicago.
The Growth Coach is the largest provider of affordable group coaching workshops in the nation, but coaches also offer group and one-on-one coaching for sales professionals, managers, management teams, self-employed professionals and more through a wide variety of programs via three industry-leading series – their Foundational Series, Fundamental Series and Fast Forward Series. The Growth Coach's mission is to help business leaders build more successful businesses and more balanced lives. Miller will be serving clients throughout the Chicago area.
"The Growth Coach is unique because, rather than come in with a plan to help you improve your business, I am focused on learning about your business, working with you to set your goals and build a strategic plan, and then help keep you accountable for making those changes along the way. I'm here to work with you to help you make improvements using the resources The Growth Coach has developed over the franchise's 20 year history – not tell you how to run your business," Miller said.
As a Growth Coach, Miller is certified in The Strategic Mindset coaching process, which adheres to the standards, practices and policies that the International Coaching Federation has set forth in their Code of Professional Standards and Ethics. The company's landmark Strategic Mindset Process is so effective that it comes with a money-back guarantee.
Miller has been working as a consultant in various industries for the last 15 years, including five years coaching managers and students in higher education. She is currently in the process of earning her Doctorate in Education with an emphasis on Organizational Leadership – Organizational Development. Miller's Parents, son and granddaughter all live in the Chicago area and have been a huge inspiration for her as she's pursued opening her own business.
"Between the time I spent coaching students and management and my studies in organizational leadership and development, I found that I was passionate about helping people see the big picture, create a pathway for improvement and make progress toward a brighter future. I decided to become a Growth Coach because that process is exactly what The Growth Coach focuses on in the business world," Miller said. "The Growth Coach's variety of programs – from Strategic Business Owner, to Sales Mastery, to Teambuilding, to Professional Credits and everything in between – are designed to work together to help business owner and company leaders build better companies and more balanced lives. I'm looking forward to making a difference and using my training and education to give back to the community as a Growth Coach."
The Growth Coach, founded in Cincinnati, Ohio, sold its first franchise in 2003, but its leaders have a successful 20-year track record of helping business leaders find success and balance. Today the business and sales coaching franchise is in more than 100 markets worldwide. The Growth Coach was included in Bond's "Top 100 Franchises" and recognized in Entrepreneur Magazine's "Franchise 500" and "Best of the Best," in USA Today and has been featured on FOX, CBS and NBC.
For more information about how The Growth Coach Heart of Chicago can help you and your business, call (773)690-6400, email TMiller@TheGrowthCoach.com or visit https://www.thegrowthcoach.com/heart-of-chicago/.