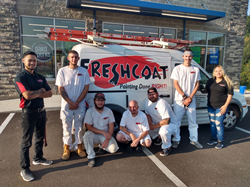 After growing our company in Charleston to almost 20 staff members, we saw an opportunity to open a second operation in Morgantown. We are thrilled to be growing, offering excellent painting services and creating jobs across West Virginia. - Chad Smith
MORGANTOWN, W.V. (PRWEB) October 20, 2020
Chad and Tina Smith are pleased to announce the expansion of their professional painting company with the opening of Fresh Coat Painters of Morgantown. With the overwhelming success of Fresh Coat Painters of Charleston, serving the area around Morgantown became important.
Fresh Coat Painters of Morgantown offers painting services including interior and exterior painting, sealing and staining; pressure washing; popcorn ceiling and wallpaper removal; and drywall repair. Fresh Coat Painters of Morgantown has a 24/7 receptionist, online scheduling and free detailed quotes, and they only use high-quality materials. Fresh Coat Painters of Morgantown serves Morgantown and the surrounding communities from Bridgeport to Fairmont.
Chad and Tina launched the first Fresh Coat Painters franchise in Charleston in 2017 and have since been recognized for their growth and leadership across the Fresh Coat Painters system. Prior to opening Fresh Coat, Chad spent 20 years in the construction and environmental industry and was a licensed home inspector. Tina has her West Virginia Real Estate license.
"Throughout the course of my career, I saw the need for a truly professional painting company in this region. It's hard to find a high quality professional painter – you basically have to know someone. We chose to franchise with Fresh Coat because Fresh Coat is a professional painting company with a commitment to quality and customer service with the support of a marketing and operations team," Chad said.
"After growing our company in Charleston to almost 20 staff members, we saw an opportunity to open a second operation in Morgantown. We asked two of our great staff members – Dwayne Dizon and Felicha Townsend – to relocate to Morgantown and lead the business locally under our guidance. We are thrilled to be growing, offering excellent painting services and creating jobs across West Virginia," Chad added.
As part of the company's commitment to customer service, Fresh Coat Painters offers a 3-3-3 customer service pledge, which means calls will be answered by a live person within three rings, a quote will be delivered within three days (customer schedule permitting) and the job will be started within three weeks. Fresh Coat Painters has a national product partnership with Sherwin-Williams®, so products are guaranteed to be high quality.
Dwayne, who is the supervisor for Fresh Coat Painters of Morgantown, has worked for Fresh Coat Painters since 2017. He started as a painter before being promoted to a foreman and then a manager before helping to launch Fresh Coat Painters of Morgantown. He has an associate's degree in design.
"I've always wanted to really build a career with a company that allows me to grow and Fresh Coat Painters has been a perfect fit. I'm excited about this opportunity and I'm looking forward to bringing a new kind of painting experience to this community. Our on-staff painters are professional, background checked, licensed and insured and, from day one through the warranty, we are always focused on quality and service," Dwayne said.
Felicha also joined the Fresh Coat Painters team in 2017 as a painter after staying home with her children full time. She was promoted to an estimator in Charleston before being asked to help lead the team in Morgantown.
"Fresh Coat Painters is different because of our focus on quality. Some painting companies hand you a quote on a napkin, slap paint on your walls and collect their fee. From our first quote with our professional estimating software to our professional painting services and workmanship warranty, we stand behind the work and process," Felicha said.
Fresh Coat Painters was founded in 2004 as part of Strategic Franchising Systems. Since 2015, Fresh Coat Painters has been included in the Bond's Top 100 and named to Entrepreneur Magazine's Franchise 500 list. Fresh Coat Painters is also part of the International Franchise Association, the Small Business Association's Franchise Registry, VetFran and Minority Fran. Fresh Coat Painters of Morgantown is bonded and insured.
For more information about Fresh Coat Painters of Morgantown, call 304-355-9556, email ftownsend@FreshCoatPainters.com or visit http://www.freshcoatpainters.com/morgantown-wv.