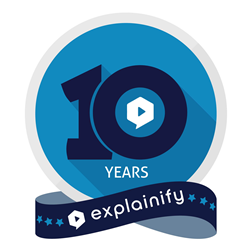 "We discovered that clients put a premium on the professional leadership we offer. As a result, it becomes a real partnership between our team and our clients. This is the foundation in which Frustration-Free™ was built upon." ~ Eric Hinson, Explainify Founder/CEO
FAYETTEVILLE, Ark. (PRWEB) December 02, 2021
Explainify, the leader in premium animated explainer videos, is celebrating its 10-year anniversary in 2022. Over the past decade, the world's most beloved brands have trusted the video experts at Explainify to create thousands of animated explainer videos and generate millions of views through short-form video content.
Founded in 2012 by Eric and Krista Hinson, Explainify has quickly become one of the industry's top explainer video services, offering high-quality B2B and B2C videos and offering a 'white-glove' treatment to every project they produce. One of the ways this occurs is through Explainify's patented Frustration-Free™ Process.
"In 2019, we conducted extensive customer research which included interviews with our top clients," says Explainify Founder and CEO Eric Hinson describing the innovative process. "We started out by getting to know the needs of our clients and understanding the situation that brought them to Explainify in the first place.
"While many findings resulted in our research, the one thing that stood out to us was the value customers put on the entire video process from inception to completion and the timely manner in which it's delivered," adds Hinson. "We discovered that clients put a premium on the professional leadership we offer. As a result, it becomes a real partnership between our team and our clients. This is the foundation in which Frustration-Free™ was built upon."
A few highlights from past ten years include:

Frustration-Free™ Process: Setting Explainify apart from other explainer video companies is their patented process. The team integrated Agile methodologies into the creative process, giving clients a uniquely simple and hands-on experience.
Recognitions: Over the years, Explainify has solidified itself amongst the best explainer video companies with awards and recognitions, including a Twitter endorsement from MOZ founder Rand Fishkin; consistently named Top Explainer Video Service by various industry outlets; partnered with top video marketing experts such as Vimeo, Wistia, and Vidyard; and most recently awarded a Gold Customer Rating on Clutch.
Best 60-Second Pitch: Explainify was awarded Best 60-Second Elevator Pitch by Arkansas SourceLink, a former government agency that connected small business owners to a network of nonprofit resource organizations. This resulted in an all-expense paid trip to SXSW.
International Impact: In 2018, Explainify leadership visited Africa to coach and teach video production to local animators.
NPS Score: Explainify is proud to average a 9.8/10 Net Promoter Score, measuring the willingness of clients to recommend their videos and services.
Podcast: Launched in 2020, PRESS PLAY Podcast powered by Explainify is hosted by Explainify VP Derek Gerber and features marketing leaders from all industries. The podcast can be heard on Spotify and Apple Podcasts, as well as viewed on YouTube and at explainify.com/press-play.
"We take immense pride in the amazing video content that we bring to life with our partners and clients," adds Gerber. "We're still here after 10 years because we genuinely care about our clients and about making videos we can all be proud of for years to come. Through every step of the video-making journey, our clients are part of the process and they understand the importance of including video into their marketing strategies, brand awareness campaigns and internal communications. Business workflows have changed in ways we never imagined over the recent years and we've been able to change right along with them, delivering premium videos for a remote environment, including educational series, revenue-building messaging, and more."
In honor of their 10-year anniversary, Explainify will celebrate throughout 2022 with various events, including:

Young Creatives Contest: In an effort to give back to the creative community, Explainify will host a year-long competition open to creatives throughout the world. The monthly winner will receive high-profile spotlights throughout the year, a $50 gift card, and eligibility into the year-end Grand Prize. The Grand Prize recipient will receive a $500 gift card and an Apple Watch. Learn more at explainify.com/young-creative-competition.
Client Recognition: Explainify will tap a few of their long-time clients for testimonials, guest blogging opportunities, and client spotlights.
Staff Picks: Throughout 2022, the Explainify team of Project Managers, Project Coordinators, Sales Executives, and Creative staff will choose their favorite video projects and publish a write-up on each video to appear on Explainify.com.
Social Giveaways: Each month, Explainify social media followers will have the opportunity to win limited-edition Explainify swag.
"We've seen a lot of uncertainty in the market over the past decade," adds Gerber. "But through it all people still trust us with different aspects of their brand experience. This is why we have an 85% retention rate. That gives us the biggest and best reward and will carry us into the next 10 years and beyond."
About Explainify
Founded by Eric and Krista Hinson in 2012, Explainify is a leader in animated explainer video production services. Headquartered in Fayetteville, Arkansas with affiliate offices throughout the United States, Explainify works with organizations from Fortune 500 companies to funded startups. The company has created explainer videos for brands around the world, including such iconic names as Visa, Coca-Cola, Tyson Foods, American Red Cross, General Electric, and Bosch. To learn more, visit explainify.com.