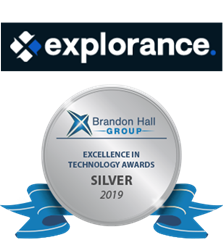 Explorance was recognized for developing a model for evaluating informal learning that builds on standardized, rule-based, and automated processes
MONTREAL (PRWEB) February 07, 2020
Explorance, the leading Journey Analytics solution provider offering the Metrics That Matter™ (MTM) solution, was awarded the Silver Award from the Brandon Hall Group for the Best Advance in Technology for Testing or Learning Evaluation on February 5th. Explorance, together with its clients Mastercard and Heartland Dental, received this prestigious award which affirms their contribution to assisting organizations in assessing the effectiveness of informal learning pathways in conjunction with formal learning evaluations.
Organizations often struggle with measuring the effectiveness of formal training programs, while neglecting most of the informal learning events. Descriptive data shows that workers learn a lot from the various tasks they perform on the job and that much of their performance is impacted by doing or learning from peers or supervisors in the workplace. Thus, in addition to assessing formal training, it is crucial to evaluate the various learning pathways, including informal interactions.
At Explorance, informal assets, such as a learning portal, learning path, or a person-to-person coaching or a mentoring session, are evaluated differently based on the type of learning. Standardized surveys have been created for each informal learning category and are flexed to fit each organization's strategic needs. Evaluative surveys contain specific questions based on the type of informal asset being evaluated while the other types of informal learning evaluations occur at a macro level. The C-suite often wants to know whether a new informal learning platform or tool is cost-effective. To obtain this information, a broader evaluation approach is undertaken to assess costs, monitor changes in behavior, determine the impact on culture, and estimate the ROI of the platform.
"Explorance was recognized for developing a model for evaluating informal learning that builds on standardized, rule-based, and automated processes," says Cristina Hall, VP Marketing at Explorance. The model is a new way to code, analyze, and report results that captures the attention of business leaders. "The Metrics That Matter (MTM) solution is designed to provide insights to business stakeholders on the quality of training and what can be done to continuously improve training programs," adds Hall.
Unlike other models, the one supported under the MTM solution addresses aspects that are beyond activity and learner satisfaction. For example, the quality of training, learning effectiveness, the applicability of the training to the employee's duties, and the expected training impact are also considered. Having the largest database of benchmarks for learning effectiveness in the world, users can compare the results from a course to results from other courses across industries, geography, job type, and course type. The MTM system provides reports and dashboards that summarize the data, offering comparative insights and specific recommendations for improvement.
The Brandon Hall Group Excellence Awards program recognizes the best organizations that have successfully deployed programs, strategies, systems, and tools that have achieved measurable results. The awards attract entrants from leading corporations around the world.
To understand how your organization can evaluate formal and informal learning assets for training effectiveness and continuous improvement, listen to the recorded webinar on how Mastercard targeted 12 informal learning pathways in order to evaluate their training effectiveness across a variety of program types.
About Explorance
At Explorance, we believe that feedback matters. As the world's largest provider of journey analytics solutions, we support organizations in looking beyond experience management, enabling their continuous improvement strategies. Through the Blue journey analytics solution, organizations can connect the dots and get the full picture to better support decisions. For businesses, it means gaining deeper insights to help employees increase impact and improve performance. For higher education, it means getting the full story to help students achieve success.
Founded in 2003, Explorance is headquartered in Montreal and has business units in seven locations across the globe. Through our Culture of Freewill, we ranked as a top employer by the Great Places to Work Institute® for six consecutive years. Explorance is proud to partner with one-third of the Fortune 100 and 1 in 4 of the QS 100 higher education institutions.