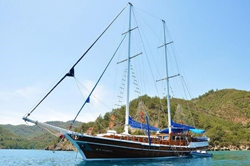 In 1994, archaeologist and BBC TV documentary-maker Peter Sommer walked 2,000 miles from Troy, retracing the route of Alexander the Great. In the 25 years since, Peter has been organizing exceptional expert-led archaeological, historical and culinary tours, plus private gulet charters & land tours.
MONMOUTH, Wales (PRWEB) July 12, 2019
With summer upon us, explore the Mediterranean's wealth of historic and archaeological sites in the best way possible – on board a traditional, hand-crafted Turkish Gulet with cultural tour specialist Peter Sommer Travels.
Offering a variety of intimate, small-group (typically between 10–14 guests) gulet cruises led by a range of expert guides, archaeologists and historians - all specialists in their field – each Peter Sommer Travels itinerary uncovers the fascinating historic past of the region, offers superb Mediterranean cuisine and allows time to explore the locations' beautiful scenery and azure waters, with plenty of opportunities to swim, sunbathe and relax on deck.
Top picks across Peter Sommer Travels' 2019 tours include:
Cruising the Aegean: A Family Adventure – Departing July 27, from £2,895 per person* (approx. US $3,667.88/CAN $4,807.81).
Set sail on a family adventure that's as fun as it is educational with this eight-day gulet cruise through the beautiful Dodecanese islands. Led by expert guides Heinrich Hall and Dr. Maria Girtzi, learn about the region's fascinating past through tales of Byzantine holy men, Crusader Knights, Ottoman warriors and more. Visit fascinating locations including an active volcanic crater on Nisyros, the mansion of a Roman aristocrat on Kos and the Cave of the Apocalypse on Patmos, with plenty of time to relax on deck or swim, snorkel and kayak as well.
Cruising the Dalmatian Coast: from Dubrovnik to Split – Departing August 31, from £3,550 per person* (approx. US $4,497.74/CAN $5,895.59)
Explore the fascinating historical sites and charming seaside villages that line Croatia's Dalmatian Coast on this eight-day gulet cruise, beginning in one of the country's most popular cities (Dubrovnik) and ending in another (Split). Led by expert guide Filip Budic, visit the islands of Korčula, Vis, Hvar, Brač and Pučišća, all boasting captivating historical sites - from the grand streets of Dubrovnik's historic centre to the ancient remains of Issa on the remote island of Vis - with divine cuisine served on board and beautiful beaches on which to unwind.
Cruising the Coast of Dalmatia: from Šibenik to Zadar – Departing September 14, from £3,550 per person* (approx. US $4,497.74/CAN $5,895.59)
Home to many of Croatia's most astonishing historical sites, visit some of the lesser-frequented places on this seven-night gulet cruise of the Dalmatian Coast. Led by expert guide Filip Budic, explore the UNESCO World Heritage site of Trogir, visit the tiny island of Nin (home to one of Croatia's medieval capitals) and explore the Venetian fortifications of Zadar. Between sightseeing, take a dip in the Adriatic and dine on delicious local cuisine.
Cruising the Dodecanese – Departing September 21, from £4,250 per person* (approx. US $5,384.62/CAN $7,058.10)
The Dodecanese islands offer an abundance of historical sites, spectacular scenery, wonderful cuisine and beautiful bays. Visit eleven islands in the Dodecanese chain on this 15-day gulet cruise. Led by expert guides Heinrich Hall and Dr. Maria Girtzi, discover captivating archaeological sites including an ancient medical center known as The Asklepieion in Kos, the medieval fortifications of Rhodes, the Castle of Panteli on Leros and more. Often mooring in secluded cloves, guests can take in both the stunning scenery and enjoy swimming in the Aegean Sea on this relaxing yet fascinating cruise.
Walking and Cruising the Dodecanese– Departing September 28, from £2,845 per person* (approx. US $3,604.53/CAN $4,724.78)
Combine the pleasure of a laid-back gulet cruise around some of Greece's picturesque islands with exhilarating walks through the fascinating region. Enjoy scenic swims and dine on the delicious local cuisine in between visiting astonishing historical sites. Led by expert guides Dr. Michael Metcalfe and Anastasios Papadopoulos, discover the lesser-known island of Leros and learn about its turbulent history on a visit to Mount Patela, and visit volcanic Nisyros plus off-the-beaten-track sites on Kos, including the impressive eyrie of Palaio Pili.
*Prices are based on two sharing. All cruises include full-board accommodation, crew services, expert-led excursions, entrance fees and transfers. Flights extra.
Peter Sommer Travels also offers the opportunity for small groups to charter its beautiful gulets
Why not enjoy a personally-tailored gulet tour? Peter Sommer Travels' gulet charters offer the opportunity to explore the ancient, historic and cultural sites of Croatia, Greece, Italy or Turkey, while in the company of an expert guide. With each detail meticulously planned, small groups can create an itinerary tailored precisely to their personal holiday requirements' and interests.
Take inspiration from these sample charter itineraries for your next tailor-made break:
Walking and Cruising Southern Dalmatia – from £3,395 per person** (approx. US $4,301.36/CAN $5,638.18)
Take in the spectacular scenery and beautiful landscapes of Southern Dalmatia by both sea and land on an eight-day tour combining thrilling hikes with a relaxing cruise. Enjoy the azure waters and beautiful harbours that line the Dalmatian coast before hiking inland, where you will explore ancient sites including the Great Wall of Ston, the UNESCO World Heritage Site of the Stari Grad Plain, a monastery founded in the Renaissance period known as the Blaca Hermitage and more.
Cruising the Carian Coast– from £2,395 per person**(approx. US $3,034.39/CAN $3,977.45)
With an abundance of historic sites lining the beautiful Carian Coast, there's no better way to take in some of Turkey's historical gems than on an eight-day cruise on board a beautiful traditional Turkish gulet. Offering a combination of well-known and lesser-frequented sites, this itinerary provides a varied take on the renowned coastline. Visit the spectacular marbled city of Knidos and the famed rock-cut tombs of Kaunos, as well as the remote and rarely visited towns of Phoenix and Lydae, among other highlights.
Cruising the Aegean: From Kos to Patmos – from £2,845 per person**(approx. US $3,604.53/CAN $4,724.78)
Explore the spectacular offerings of the Dodecanese islands, from picturesque bays to the many historical sites, on an eight-day cruise of the Aegean Sea. With fascinating locations such as the medieval castle of Panteli on Leros, the Cave of the Apocalypse on Patmos and the active steam crater of Stephanos on Nisyros - all en route - guests will learn about the islands' impressive history while in the company of an expert guide.
**Prices are based on two sharing cabins on a one-week tailor-made cruise for a minimum of ten guests (parties from one individual to 20 can be accommodated), including seven nights' full-board accommodation on the gulet, all crew services on board, airport transfers, all entrance fees, tips on land and archaeological excursions. Flights extra.
About Peter Sommer Travels
Specializing in small-group expeditions, Peter Sommer Travels offers more than 25 different expert-led land tours and gulet cruises among the ancient sites of Croatia, Great Britain, Greece, Ireland, Italy, and Turkey, including family tours; gastronomic tours of Sicily; city tours of Athens, Rome and Istanbul; and cultural walking holidays. Each tour is limited to no more than 18 participants, for a personalized experience.
Peter Sommer Travels received the Tour Operator of the Year Gold award in 2018 and 2016 from AITO, the Association of Independent Tour Operators, as well as the Silver award in 2017 and 2019.
Every itinerary is hosted by an expert guide. They provide a fascinating insight into ancient lands while guests enjoy the history, culture, magnificent scenery, food and wine of each destination.
For full details and bookings, visit https://www.petersommer.com or email info(at)petersommer.com; alternatively, call Peter Sommer Travels at 1-855-443-3027 (in the US and Canada).