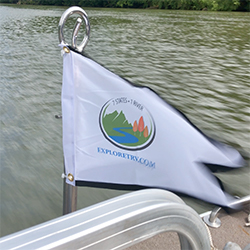 The Tennessee River is part of the Great Loop's Inland Rivers Segment. This 692-mile route is a popular waterway during the fall and winter seasons for 'loopers.'
KNOXVILLE, Tenn. (PRWEB) October 14, 2020
Tourism partners from across the Tennessee River Valley watershed will participate in the 2020 America's Great Loop Cruising Association's annual conference. This year's event will be virtual due to social distancing practices during this time of COVID.
ExploreTRV partner communities include Shera Petty and Chemain Kellogg (Visit Knoxville), Rachel Harrell (Visit Loudon County), and Jennifer Wheatley (Friends of Land Between the Lakes).
"The Tennessee River is part of the Great Loop's Inland Rivers Segment," says Explore TRV spokesperson, Julie Graham. "This 692-mile route is a popular waterway during the fall and winter seasons for 'loopers.' We are delighted that the partners from Knoxville and Kentucky will be on hand to answer questions about the cities and sites along the route. Both Shera and Rachel have a great deal of experience on the waterway boating and locking through the dams."
The ExploreTRV booth will have downloadable pdfs of visitor information and links to the partner websites. The organization is also sponsoring the photo booth for attendees. This year's event sold out.
The Tennessee River Valley Stewardship Council serves as the steering committee and editorial board for the Geotourism MapGuide website. It is comprised of volunteers from a seven-state region. The Council's efforts are made possible through the generous support of the Tennessee Valley Authority (TVA). For information on TVA's campgrounds and TVA's public trails, visit their website at http://www.tva.gov and click under the Recreation section.