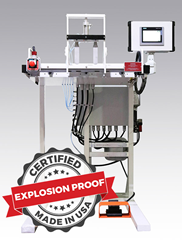 ...the best system is one that uses innovation to deliver a product that offers greater safety, at a lower premium
Los Angeles, California (PRWEB) May 24, 2017
IMPAK Corporation, a leader in flexible packaging for environmentally-sensitive products, announces its development of certified explosion-proof heat sealers for safer operation in hazardous locations.
"We were surprised to learn that many companies in industries like fuel servicing, dry cleaning, flour and feed mills, and recycling are using heat sealers without complying with OSHA Standards," said R. Hasan, director of IMPAK's Machinery Group.
These hazardous locations (HazLoc) are at higher risk for accidental combustion due to elements such as flammable gas (Class I), combustible dust (Class II), and ignitable fibers (Class III) which can ignite whenever there is an ignition source. Many people are unaware of the potential for combustion in seemingly innocuous settings such as industrial bakeries and textile or fiber production facilities.
Other "classified" locations include:

Fuel Servicing Areas - Class I, Flammable Gas
Dry Cleaning Plants - Class I, Flammable Gas
Flour and Feed Mills - Class II, Combustible Dust Settings
Recycling Plants - Class III, Ignitable Fibers
In such areas, the normal operation of equipment can present several sources for ignition, from the electrical arcs between components, to the heat of the machine itself. With heat sealing equipment, this danger is ever more present as the temperature required to seal the material can exceed the safe temperature for the location itself.
"Our customers work with highly technical materials that often require specific temperatures and effective pressure controls to seal their materials in order to meet seal integrity specifications; IMPAK knows how to produce these machines for operation even in hazardous locations where such high temperatures can be an ignition source." - Kevin Cullen, IMPAK President
A Higher Standard
"Our impulse sealers are safer for their operators because heat is applied only when needed. In addition, they create better seals and save energy compared to sealers that require constant heat," explains Mr. Rouzbeh Yousefpour, Software & Electrical Engineer, IMPAK Machine Group.
IMPAK's explosion-proof machines feature enclosures around the electrical controls, wiring, and heating elements to ensure potential sources of ignition never make contact with ignitable materials, enhancing workplace safety in compliance with federal OSHA and state standards. However, explosion-proof components do not equate to an explosion-proof certified machine, as the team at IMPAK is keenly aware;
"After reviewing available machines in the market we realized some, but not all sources of ignition had been accounted for. To us, there is no such thing as 'partially' explosion-proof; your machine is either safe for use in a HazLoc setting, or it isn't." – Tod Cooper, Product Manager, IMPAK Machinery Group
Knowledge is Power
Some manufacturers claim compliance with standards for an explosion-proof machine, but fall short when they are unable to provide a machine with precise temperature readings, often stating ranges of 10°F variance and up.
"We know this firsthand," says Hasan, "Our standard machines originally used the system still used by older companies, but we saw that 10°F temperature variance as inconvenient in normal settings, and potentially catastrophic in classified locations. We've since moved to superior control platform, the Intelligent Sealing System (iS2), a system developed in-house which offers temperature control within less than 3°F and readings every 2 milliseconds."
Seals of Approval
Unlike other manufacturers, IMPAK recommends third-party certification by respected outside agencies such as Underwriters Laboratories (UL) and CSA that verify the machine is explosion-proof and not simply built from explosion-proof components. Certified equipment not only enhances workplace safety in compliance with OSHA standards, but also can significantly lower insurance premiums.
"We have had customers and potential customers report back to us that other machine builders are either unwilling or unable to provide third-party certification. IMPAK understands third-party certification requires a lot of additional steps, but is an absolute necessity for delivering a high quality product." – Julio Flores, Production Leader, IMPAK Machinery Group
When it comes to workplace safety, presumably every company would like to say their solution spared no expense, but in reality, the best system is one that uses innovation to deliver a product that offers greater safety, at a lower premium. IMPAK has a track record in the industry of providing that solution.
About IMPAK Corporation
Since 1993, Los Angeles-based IMPAK Corporation has provided innovative packaging solutions to individuals and businesses with modified atmosphere packaging needs. They offer a wide range of technical barrier pouches and sorbent products that are maintained in inventory at their almost 38,000 square foot warehouse, plus the ability to custom produce packaging and sorbents to exact specifications. More recently, they expanded their line of US-made machinery to provide highly advanced capabilities in temperature and pressure control to address the sealing challenges of their customers, even when it means producing one-of-a-kind equipment.
For more information visit: impakcorporation.com/explosion-proof-sealers
Contact Danae Fisher: 310-715-6600 x266