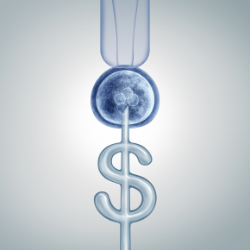 "It is time to educate and enlighten people struggling to have a family, so they can gain a sense of emotional control over their fertility."
LOS ANGELES (PRWEB) December 09, 2019
As rising numbers of couples and individuals experience infertility and undergo treatment like in-vitro fertilization (IVF), the true costs to their emotional and financial welfare are being chronicled. Industry experts are calling for emphasis on knowledge, community and enlightenment as a counterweight to the stress and unsavory practices some providers engage while marketing expensive services and medication to patients. "It is time to educate and enlighten people struggling to have a family, so they can gain a sense of emotional control over their fertility. There is a tremendous need for transparency in this industry, whether it be informational, financial, or emotional." said Rozanne Sher, co-organizer of "The IVF Talks," a patient-focused event scheduled for February 9 in Los Angeles, Calif. "People need to feel empowered when undergoing such an emotionally draining experience. Knowledge is power. Our goal is to arm them with expert information so they will be well equipped to tackle the emotional and financial minefield along their journey to family."
According to a report published by the Centers for Disease Control and Prevention (CDC), between 12 and 13 percent of American couples will experience some difficulty starting a family [1]. This number is expected to continue to grow in the coming years, as more women delay having a child and turn to IVF when ready. Studies show that the annual IVF cycle volume in the U.S. has grown 70 percent from 2005 to 2015 [2].
The CDC reports that out of about four million births per year in the U.S., 80,000 babies are via IVF. The success rate in the U.S is as follows:

Women younger than 35: 21.3 percent success rate (it also decreases precipitously over the next 10 years);
Women aged 45 and above: 0.6 percent success rate [3].
The emotional toll the process takes on couples is significant. One Harvard paper reported that a study of 200 couples seen consecutively at a fertility clinic found that "half of the women and 15 percent of the men said that infertility was the most upsetting experience of their lives." Another study cited in the same paper found that "women with infertility felt as anxious or depressed as those diagnosed with cancer, hypertension, or recovering from a heart attack [4]." Moreover, the medications intended to treat infertility may themselves contribute to patient despair. The same Harvard paper linked them to side effects that can include depression, mania, irritability, and thinking problems.
Financial imperatives contribute to patient stress. The average cost of a single IVF cycle in the U.S. is between $12,000 and $15,000 and on average, it costs $50,000 to conceive a child through IVF [5]. Although 16 states have passed laws that require insurers to either cover or offer coverage for infertility diagnosis and treatment, most plans don't cover it.
That means most of the associated costs of infertility treatment are paid for in cash by couples desperate to start a family—making them vulnerable to fall victim to misinformation and unnecessary add-on procedures. Researchers in Barcelona discovered that intracytoplasmic sperm injection (ICSI), which is routinely sold to families undergoing IVF treatment as an expensive "add-on," actually reduced success rates by 55 percent as compared to standard IVF treatment [6].
"I know from my own personal experience; the IVF process can be overwhelming and confusing not only emotionally but financially. The IVF Talks aims to educate all people on navigating the IVF process and bring forward the experts from different arenas of the IVF process. These are doctor's most patients aren't privy too during their routine infertility care." said Adam Bloch, co-organizer of "The IVF Talks."
"The IVF Talks is tackling unspoken issues of the IVF Industry head on and galvanizing all white-hat doctors and clinics in the movement to inform and empower with education," he continued. "We're bringing the conversation forward, out of the shadows, with trusted industry expert advice across every aspect of the IVF process."
"The IVF Talks" will be held at the Aratani Theatre in Los Angeles on February 9, 2020. Buy tickets here.
About The IVF Talks
The IVF Talks event is a unique, first of its kind, user-focused experience that empowers couples with expert information to tackle misinformation and other struggles throughout the Infertility journey. The Talks Company LLC, DBA The IVF Talks was established in May 2019 by Rozanne Sher and Adam Bloch to deliver state-of-the-art events centered around delivering Infertility information to the masses. Visit http://www.theivftalks.com
1."National Center for Health Statistics," Center for Disease Control and Prevention, July 15, 2016
2."Family Builder Workplace Index," The Fertility IQ, 2017-2018
3."Assisted Reproductive Technology National Summary Report," Center for Disease Control, October 2017
4. "The Psychological impact of infertility and its treatment," Harvard Medical School, May 2009
5."Coverage for fertility treatments often comes up short," CNBC, June 30, 2019
6."IVF Add-on sold to desperate couples may lower chances of having a baby by a third, study says," The Independent June 26, 2019