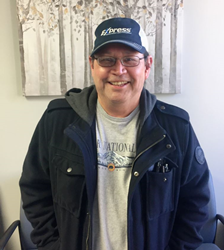 "So many incredible employees walk through the doors of Express offices every day, and as hard as it was to choose one overall winner, we are grateful to Lawrence for his incredible work ethic and giving spirit," - Express CEO Bill Stoller
OKLAHOMA CITY (PRWEB) March 15, 2021
Express Employment Professionals put 526,000 people to work in 2020 supporting local businesses all over the world, but one man's willingness to go above and beyond for companies in Montana stood out, earning him the distinction of being named the staffing company's Employee of the Year.
Lawrence Ornelas was one of five nominees for the Express Employee of the Year award, ultimately securing the top honor at Express' International Leadership Conference (ILC). He was initially awarded $1,000 from Express as the Employee of the Year winner for his region, eventually winning $5,000 as the overall winner, plus $3,000 in lieu of traveling in-person to this year's conference due to COVID-19 restrictions.
Ornelas has been placed on 36 assignments with the local Express office and owners Cheri and Jordan Nelson say he is always willing to take those last-minute jobs to grow and learn.
"Lawrence has had good times, as well as struggles while working through Express these past five years," Jordan said. "Through it all, we have supported him by believing in him and he has shown his appreciation through his dedication and hard work."
For the nomination, Nelson reached out to one of Ornelas' supervisors at the local fairgrounds who said Ornelas was one of his most trusted employees, having access keys to every door at the facility and more, to the point that "he'd have even trusted him to house-sit at his home!"
One year, the Kalispell office conducted a food drive to donate to the Veteran's Food Pantry as part of the company's philanthropic efforts through the Brand It Blue Initiative. After mentioning in passing they could use help taking the donations to the food pantry and unloading them, Ornelas was the only employee to show up to help.
"If we had more people like Lawrence, the world would be a better place," supervisor Tim Harmon said. "I know that sounds corny, but it's true. He has a sense of calmness and in the years that I have known him, he has never gotten upset or kicked rocks."
Reluctant to take credit for his work, Tim said Ornelas is a true team player and always uses the word "we" when given a compliment.
"We are so excited for Lawrence to be recognized as Express' Employee of the Year," Jordan said. "He is very deserving of the recognition so everyone can celebrate his accomplishments and know what a truly exceptional man he is."
The remaining four nominees also received $1,000 as regional Employee of the Year winners, and $3,000 each, like Ornelas, in place of attending the usual in-person annual conference.
"So many incredible employees walk through the doors of Express offices every day, and as hard as it was to choose one overall winner, we are grateful to Lawrence for his incredible work ethic and giving spirit," Express CEO Bill Stoller said. "We congratulate the regional winners, as well, and thank them for their dedication to helping local businesses thrive."
Other nominees for Employee of the Year included:

Linda Byrd—Kansas City, Missouri
Desiree Rodriguez—Holland, Michigan
Hermane Previlon—Parsippany, New Jersey
Bernard Whitt—Athens, Georgia
###
If you would like to arrange for an interview with Bill Stoller to discuss this topic, please contact Sheena (Karami) Hollander, Director of Corporate Communications and PR, at (405) 717-5966.
About Bill Stoller
William H. "Bill" Stoller is chairman and chief executive officer of Express Employment Professionals. Headquartered in Oklahoma City, Oklahoma, the international staffing company has more than 830 franchises in the U.S., Canada, South Africa, Australia and New Zealand. Since inception, Express has put more than 9 million people to work worldwide.
About Express Employment Professionals
At Express Employment Professionals, we're in the business of people. From job seekers to client companies, Express helps people thrive and businesses grow. Our international network of franchises offers localized staffing solutions to the communities they serve across the U.S., Canada, South Africa, Australia and New Zealand, employing 526,000 people globally in 2020. For more information, visit http://www.ExpressPros.com.