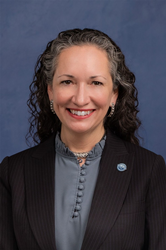 "Linda Marie has been instrumental in leading teams to develop and utilize technology to equip not only Express, but the staffing industry as a whole, with the tools our franchise owners need to succeed in recruiting and placing top talent." - Express Employment International CEO Bill Stoller
OKLAHOMA CITY (PRWEB) December 12, 2022
Express Employment International is thrilled to announce executive Linda Marie Arredondo's inclusion in Staffing Industry Analysts' 2022 Global Power 150—Women in Staffing list. Now in its eighth iteration, the list "recognizes women for their outstanding efforts and achievements in elevating the workforce solutions ecosystem."
As chief information officer and an executive vice president of Express, Arredondo helped initiate a cloud migration and deploy a business intelligence dashboard that enables greater enterprise-wide performance and productivity.
She came to the Oklahoma-based franchisor in 2020, bringing more than 20 years of experience in information technology that includes CIO roles with several other organizations. Her influence extends beyond Express as a member of the Citizen Potawatomi Nation, acting chair of the technology task force of the American Staffing Association and a board member for both the American Indian Science and Engineering Society and The Kwek Society.
"These forward-thinking women have turned challenges into springboards to success," said Subadhra Sriram, SIA's editor and publisher of media products. "From heading up impactful organizations to steering essential projects to fine-tuning the hybrid model, they have led with grace and empathy. Congratulations to this year's honorees who are navigating, adapting and innovating in this new world of work. The remarkable women gracing our 2022 Global Power 150 list exemplify strength and leadership in the staffing industry."
SIA's research consistently shows that despite women dominating offices worldwide in the staffing industry, only a few women make it to the top roles in organizations. The Global Power 150—Women in Staffing shines the spotlight on female leaders making a difference inside and outside of boardrooms. The 2022 list of Global Power 150—Women in Staffing is sponsored by Bullhorn Inc., a global provider of cloud-based software powering recruitment efforts.
"Linda Marie has been instrumental in leading teams to develop and utilize technology to equip not only Express, but the staffing industry as a whole, with the tools our franchise owners need to succeed in recruiting and placing top talent," Express CEO Bill Stoller said. "We are incredibly fortunate to have her as part of our executive team and extremely proud of her inclusion in this prestigious list."
***
If you would like to arrange for an interview with Bill Stoller to discuss this topic, please contact Sheena Hollander, Director of Corporate Communications and PR, at (405) 717-5966.
About Bill Stoller
William H. "Bill" Stoller is chairman and chief executive officer of Express Employment International. Founded in Oklahoma City, Oklahoma, the international staffing franchisor
supports the Express Employment Professionals franchise and related brands. The Express franchise brand is an industry-leading, international staffing company with franchise locations in the U.S., Canada, South Africa, Australia and New Zealand.
About Express Employment Professionals
At Express Employment Professionals, we're in the business of people. From job seekers to client companies, Express helps people thrive and businesses grow. Our international network of franchises offers localized staffing solutions to the communities they serve across the U.S., Canada, South Africa, Australia and New Zealand, employing 586,000 people globally in 2021 and more than 10 million since its inception. For more information, visit ExpressPros.com.
About Staffing Industry Analysts (SIA)
Founded in 1989, SIA is the global advisor on staffing and workforce solutions. Our proprietary research covers all categories of employed and non-employed work including temporary staffing, independent contracting and other types of contingent labor. SIA's independent and objective analysis provides insights into the services and suppliers operating in the workforce solutions ecosystem including staffing firms, managed service providers, recruitment process outsourcers, payrolling/compliance firms and talent acquisition technology specialists such as vendor management systems, online staffing platforms, crowdsourcing and online work services. We also provide training and accreditation with our unique Certified Contingent Workforce Professional (CCWP) program.
Known for our award-winning content, data, support tools, publications, executive conferences and events, we help both suppliers and buyers of workforce solutions make better-informed decisions that improve business results and minimize risk. As a division of the international business media company, Crain Communications Inc., SIA is headquartered in Mountain View, California, with offices in London, England.