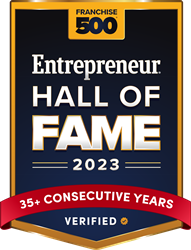 "It is an absolute honor for Express to be recognized in the first iteration of Entrepreneur's Hall of Fame and #1 in Category Club under such rigorous evaluation." - Express Employment International CEO Bill Stoller
OKLAHOMA CITY (PRWEB) February 27, 2023
Citing Express Employment Professionals as a brand that has stood the test of time while consistently thriving, the staffing company has been inducted into Entrepreneur Magazine's inaugural Franchise 500 Hall of Fame and #1 in Category Club.
Hall of Fame recipients are franchisors that have ranked in every Franchise 500 for a minimum of 25 years, and Express has been included in the list for 35 consecutive years.
For admittance to the #1 in Category Club, companies must have ranked at the top of their industry in the Franchise 500 for the last 10-plus years. Express earned the distinction of being the top in category for the past 12 years.
Express has been on Entrepreneur's Franchise 500 list since 1989 and consisted of 103 units at the time. Today, the staffing giant boasts 860 locations in five countries, including the U.S., Canada, South Africa, Australia and New Zealand, and achieved $4.46 billion in sales in 2022.
"It is an absolute honor for Express to be recognized in the first iteration of Entrepreneur's Hall of Fame and #1 in Category Club under such rigorous evaluation," Express Employment International CEO Bill Stoller said. "Now in our 40th anniversary year, we are proud of the dedication and hard work of everyone in our network who has created a company that is built to last. The future is bright for Express and the many clients and associates who rely on us to provide superior staffing support."
Entrepreneur's Franchise 500 has been evaluating and ranking franchise opportunities for 44 years. The company's proprietary ranking formula analyzes brands based on more than 150 data points in the areas of costs and fees, size and growth, franchisee support, brand strength, and financial strength and stability. The ranking grows more competitive each year—1,321 companies applied for a chance at a spot in the top 500 in 2023—and only 49 franchise brands have managed to rank every year for the last 25 years or more, and thus earn a spot in the 2023 Hall of Fame.
"We're honoring these A-list brands who have shown through and through their commitment to growth, to their franchisees, and to their communities," said Entrepreneur Senior Vice President of Franchising Liane Caruso. "Ranking in the Franchise 500 is highly competitive, and achieving that distinction year after year is quite an accomplishment. We're thrilled to recognize so many brands who have thrived over the years!"
In 2022, Entrepreneur further recognized Express as a Top Global Franchise, a Fastest Growing Franchise Worldwide, a Top Franchise for Veterans and gave the company a Best of the Best ranking.
If you are looking for a franchise opportunity backed by a proven award-winning system, Express Employment Professionals has franchise territories available. For more information visit ExpressFranchising.com.
***
If you would like to arrange for an interview with Bill Stoller to discuss this topic, please contact Sheena Hollander, Director of Corporate Communications and PR, at (405) 717-5966.
About Bill Stoller
William H. "Bill" Stoller is chairman and chief executive officer of Express Employment International. Founded in Oklahoma City, Oklahoma, the international staffing franchisor supports the Express Employment Professionals franchise and related brands. The Express franchise brand is an industry-leading, international staffing company with franchise locations in the U.S., Canada, South Africa, Australia and New Zealand.
About Express Employment Professionals
At Express Employment Professionals, we're in the business of people. From job seekers to client companies, Express helps people thrive and businesses grow. Our international network of franchises offers localized staffing solutions to the communities they serve across the U.S., Canada, South Africa, Australia and New Zealand, employing 579,000 people globally in 2022 and more than 10 million since its inception. For more information, visit ExpressPros.com.