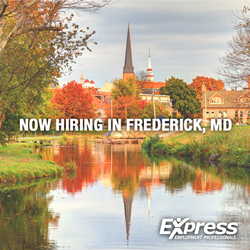 "We are ready to help get Frederick County back to work." - David West, Owner, Express Employment Professionals
FREDERICK, Md. (PRWEB) September 22, 2020
Express Employment Professionals, a workforce solutions provider, will be holding a socially distant and COVID-19 safe Drive-Thru Job Fair on Thursday, September 24th, 2020 from 11am to 6:30pm in the rear parking of 411 Aviation Way, Frederick, MD 21701.
"We invite everyone in the Frederick County community to stop by and safely fill out an application in the comfort of their vehicle", said Owner David West. "Local companies are open and looking for employees, and we are ready to help get Frederick County back to work." "We have approximately 77 openings to fill." We have seen an increased need from employers in need of good employees as Frederick County has moved into stage 3 and our local economy continues to reopen." "Our office is open and we have had many job seekers come in and apply, however we understand that not everyone may feel safe enough to do so, as the pandemic still lingers on, this Drive-Thru Job Fair is a way to meet their needs.
About Express Employment Professionals – Frederick County, MD office.
Express Employment Professionals is a provider of staffing services to Frederick County employers and the great people who live in Frederick County. Its workforce solutions service offerings are fit to each employer's specific needs and encompass: Direct Hire, Evaluation Hire, Flexible Staffing and Temporary/Contract Staffing. Express expanded into Frederick County, MD in the midst of the Pandemic in late April, however Express Employment Professionals is an International company with more than 825 offices and has provided staffing services since 1983. For more information, visit http://www.expresspros.com/frederickmd/.
There is never a fee for those seeking new career opportunities through Express Employment Professionals, which invests the time to listen to your needs and wants to find your best job match.