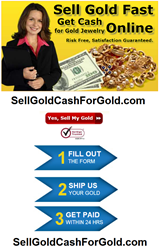 "Selling your old broken gold jewelry is a great way to get extra Christmas Cash," the report explains.
Orlando, FL (PRWEB) October 24, 2013
"The new cash for gold strategy from nowgold.com makes it easy, safe, and satisfying to sell your old unwanted gold items. The strategy of liquidating unused gold pieces of jewelry is free, and anyone can use it. You may ask yourself, whether it is safe to get cash this way," the NowGold.com representative explains. "Yes, it is safe to sell your scrap gold through the cash for gold plan," the cash 4 gold representative explains.
"The firm has been identified as one of the top scrap gold buyers in the industry," the NowGold.com representative explains, and continues by saying, "the plan offers top dollar for the scrap, broken gold jewelry pieces that people ship in. Through the excellent money - gold matching criteria that NowGold.com uses, you are guaranteed to get the maximum possible amount of money for your gold."
According to Kelvin in Michigan, "I had planned to sell some of the gold and silver necklaces and watches in my cabinet. The plan was to take them to a pawnshop, when a friend of mine sent me an email with the NowGold.com link…based on the nature of the pieces, I expected not more than $200. However, when the payment was made within two days after shipping the pieces, I had made a whooping $785."
NowGold.com is a real and genuine business, with an A+ accreditation from the Better Business Bureau. The physical address of the business is MTL Group, LLC. PO Box 608367. Orlando, FL 32810. In addition, the business has been in operation for the last 20 years plus. It was established in 1988 as a small business in Orlando Florida, and has grown to an international enterprise with a solid and satisfied customer base from around the world.
"People always ask how do they get their money," the report states and explains, "That the process or selling your scrap gold starts by filling a short form to download your gold shipping package. The next step is to ship the old gold pieces that you want to sell. NowGold offers safe, insured shipping."
"How soon is the payment made, is another popular question," the Easy Christmas Cash report says. The firm has a payment policy of making payments within 24 hours after the shipment is received. This allows for processing, and valuation of the gold pieces before payment is made.
In most cases, payment is made through a check. However, you have the option of choosing the payment method you want, instant pay or a check mailed to you. In addition to the gold pieces pay, you earn bonuses with the firm as well as referral benefits. The firm has a bonus of $50 for shipments worth $250 and above. Visit NowGold.com today to get that extra Christmas Cash.
###