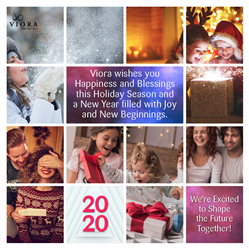 NEW YORK (PRWEB) December 30, 2020
It would be an understatement to say that 2020 has been a challenging year for all of us. Despite the unique challenges of 2020, Viora has continued to push the envelope. Our R&D and Regulations departments have worked tirelessly in tandem and as a result, Viora has received 2 CE and 3 FDA clearances during this year and we look forward to sharing the details with you during Q1 2021.
This unique year has pushed us to be creative, flexible and made Viora even stronger. Viora's Distributors, doctors, Medpsa Owners and Operators around the world have appreciated our creative efforts, especially for our new and pandemic-adjusted tools such as our online webinar events via ZOOM that have formed the basis of the Viora Online Academy website which many of you have responded favorably to by signing up to watch in record numbers.
Today, we promise you, our loyal and valued customers all around the globe, that Viora, along with our network of global distributors, will continue to push the envelope and develop more unique equipment and virtual tools so that you can further your business in 2021 and beyond.
Keep checking our social media accounts (all listed below) for special announcements as we head into the New Year with all of the endless possibilities that it brings. Happy Holidays, Happy New Year, Stay Safe and see you in 2021!