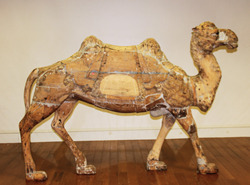 BEVERLY, Mass. (PRWEB) July 16, 2019
Kaminski Auctions announces a one-day sale on Sunday, July 21, 2019, starting at 10:00 AM at their auction gallery at 117 Elliott Street, Rt. 62, in Beverly, Massachusetts. The auction features the lifetime collection of Gretta Scharf of Beverly Farms, Massachusetts. The sale includes Mrs. Scharf's extraordinary collection of carved carousel horses and animals, Tiffany Atelier Le Tallec, "Cirque Chinois" china, as well as, Chinese porcelain, fine art, jewelry, and furniture.
Her collection of carved carousel animals includes works from such master carvers as Marcus Charles Illions, Charles Carmel, Charles I.D. Loof and, Daniel Muller. The featured lot is an early 20th-century Marcus Charles Illions carved carousel camel with marble eyes. Marcus Charles Illions was a Lithuanian born master carver of wooden carousel horses and other figures. He lived in the Brooklyn borough of New York City, where he started his firm, M. C. Illions and Sons Carousell Works. His five children all worked in the business from a young age. At one time, over ten carousels in the Coney Island section of New York City featured M. C. Illions and Sons carousel carvings. He was referred to as "the Michelangelo of carousel carvers" by The New York Times newspaper.
Mrs. Scharf had purchased this exquisite specimen at Guernsey's of New York City, New York, on June 26, 1993, for $10,000.00. The Guernsey"s auction catalog, described the camel carousel carving on page 99, as, "M. C. Illions, camel, stripped, Sauer's Kiddieland, Schererville, Indiana. A large and rare "Ship of the Desert." The lot measures 52 inches high by 75 inches in length and is offered together with a copy of the original receipt, and catalog description. It is estimated to bring $8,000-$12,000.
A Charles Carmel carved carousel jumper horse with a round jeweled saddle, and marble eyes purchased at the Redbug Workshop, Berkeley, California, in 1979 for $2400 is also offered. The jumping horse on its' stand, measures 58 inches high, and approximately 53 inches in length. Together with a copy of the original receipt, and shipping invoice it is offered at $3,000-$5,000.
From the German master carver and builder of hand-carved carousels and amusement rides, Charles I. D. Looff, is a rare early 20th-century carved carousel giraffe with a curved saddle and marble eyes. Mrs. Scharf purchased it in the late 1970s for $13,000. The lot is offered with a copy of the original handwritten receipt. There is also an early 20th century Charles Looff carved carousel jumping horse, which features a long head, flared nostrils, and saddle with jeweled decoration also purchased at the Redbug Workshop, Berkeley, California in 1979 for $4600.00.
The fifth carousel carving is an early 20th-century Daniel Muller carousel jumper. Muller trained formally as an artist at the Pennsylvania Academy of Fine Arts. His sculptures were realistic, with incredible attention to fine detail and highly sought after by collectors.
The circus theme continues with a Tiffany Atelier Le Tallec' Cirque Chinois' china service. Designed by Camille Le Tallec (French, 1906-1991) for Tiffany & Co., this hand-painted French china in the 'Cirque Chinois' pattern includes 31 pieces in total. All pieces bear the inscription on the base 'Tiffany & Co. private stock, hand-painted, made in France,' along with the Atelier Le Tallec marks.
Asian highlights include a Chinese carved jade tray of importance, along with
a pair of Chinese blue and white Guangxu bowls valued between $5,000-$8,000.
Chinese porcelain continues with a 17th-century Chinese blue and white phoenix tail shaped vase from the Qing dynasty, Kangxi, measuring 18 inches in height, a Chinese blue and white and copper-red Zun vase 16 inches tall, and a Chinese doucai bowl 6 1/2 inches in diameter all valued at $3,000-$5,000.
A rare Chinese blue and white porcelain wine cup, with the Qing Qianlong mark is estimated to bring $3,000-$4,000.
Decorative Chinese items include a pair of mid-20th-century Chinese export silver elephant-form vases with coral and turquoise inlay and jade ring handles, mounted as lamps and a matched pair of large Chinese glazed terra cotta Foo lions measuring 29 inches high.
Additional Asian items of interest include a group of eleven Japanese portable chopstick sets, a late 17th/early 18th-century Tibetan handwritten ink scripture, a 20th-century Chinese Tibetan thangka watercolor on paper painting of scrolls, a group of eight 18th-19th century kris with bayonets and another group of seven 18th-19th century Asian/Japanese Kris with scabbards.
Fine art in the sale paintings and ink and watercolor drawings by the post-war and contemporary artist Luis Granda. 'Dos Personajes Con Gato,' is an oil painting by the artist signed and dated '1979' from a San Diego, California estate.
There are several lithographs on offer by Fritz Scholder (American, 1937-2005), and a Peter Max, print of the Statue of Liberty, editioned 109/300, hand-signed.
Bronzes in the sale include an Erté (1892-1990), Art Deco bronze titled 'La Plume,' numbered 173/250, signed and dated '1980' with the original sales receipt from Fine Art Acquisition, New York and a figure of a Native American, signed 'C. Kauba' (Carl Kauba, Austrian, 1865-1922), standing 23 inches in height overall on a marble base.
Jewelry and silver highlights include a 36-inch long strand of Mikimoto cultured pearls, (113) pearls approximately 7.0-7.5mm, AA quality, with an 18-karat yellow gold clasp, an 18-karat yellow gold lapis lazuli, and diamond ring, and a 14-karat yellow gold diamond and ruby ring, with approximately 5 grams of troy weight.
A group of gold jewelry and watches includes: a pair of 18-carat mabe pearl earrings, an 18-carat sapphire and diamond bee brooch, a pearl brooch, an Elgin ladies' watch, a Girard-Perregaux men's Seahawk watch, and a ladies' Baume and Mercier watch. Additionally, there is a 14-karat yellow gold Shreve, Crump, and Low Co. pocket watch with a gold chain.
Silver highlights include an International sterling tea service in the Royal Danish pattern and a Towle' Old Masters' sterling silver flatware service for twelve among the higher priced lots.
From the estate of Barbara Weinz of Reading, Massachusetts there is a group of 19th century English Staffordshire pottery to include: three (3) pieces of white ironstone; two blue and white transferware pieces and a green transferware platter marked 'Swiss Scenery,' there are fourteen pieces in total. Other porcelain and crystal on offer include: a collection of Royal Worcester' Evesham Gold' 1961 service for twelve, signed Steuben blown glass goblets with air trap stems, and Baccarat champagne flutes and wine glasses, the property of a famous silver screen actress of Santa Barbara, California.
Also from the Santa Barbara estate, comes an impressive selection of wine lots which include: three 1929 Chateau Latour Pauillac, 1947 and 1949 Chateau d'Yquem Sauternes, two 1929 Chateau Lafite Rothschild Pauillac, 1928 and 1929 Chateau Haut-Brion. and a lot of eight bottles to include: Collector's Reserve "Porto", Schloss Johannisberger Cabinet Rhein, 1921; Louis Roederer Cristal champagne, Brut, Reims, 1964 among others.
Furniture highlights include an early 19th-century single-drawer tavern table with breadboard ends and pegged construction, also from the Barbara Weinz estate, a 19th-century French embossed brass table and a bronze table with figural leafing vine design.
Two clocks of interest include an Elmer O. Stennes Federal-style banjo clock with a finial from Weymouth, Massachusetts and a large antique Dutch wall clock with a hand-painted tin face and bronze pendulum which measures 62 inches high x 18 inches wide.
Textiles in the auction feature an antique Persian embroidered wall hanging with Arabic script, and a central portrait of a Kajar mounted on a wooden frame, an antique Caucasian pile rug, and an antique Northwest Persian flatweave rug.
Kaminski's summer schedule continues with a two-day August Asian and Estates Auction, August 17th and 18th that features Chinese, art, porcelain, scrolls, furniture, and an outstanding collection of mid-century Japanese studio ceramics acquired by a lifelong New England collector from the Frank Caro Gallery, the successor to C.T. Loo & Co. NY, NY. There are also additions from other estates.
For more information and in-person preview times go to our website at kaminskiauctions.com and sign up to bid online with KaminskiLIVE.