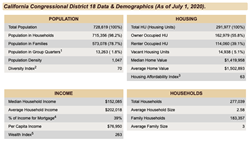 Find out detail on any Congressional District, from reps to resident demographics
MALABAR, Fla. (PRWEB) October 15, 2020
For the first time, a demographic profile for each U.S. Congressional District has been added as part of the annual demographic update for the HomeTownLocator.com (HTL) series of state gazetteers. The demographic profile includes statistics for twenty-two factors that help to characterize each Congressional District. The recent update includes data for population, income, housing, households, housing affordability, and racial and ethnic diversity.
The new Congressional District demographic profile has been added to a Congressional District page which includes a Congressional District boundary map, as well as contact information for the Congressional Representative and the two U.S. Senators.
SORT DISTRICTS BASED ON WEALTH, HOUSING OR DIVERSITY
A new article post on HTL discusses Congressional District Demographics and illustrates some of the extreme differences that are apparent when comparing the three highest and lowest values for four key demographic categories: Population Density, Wealth Index, Housing Affordability Index, Diversity Index (measurement of racial and ethnic diversity).
The article referenced above has a link to the new HTL Congressional District Demographics Data Comparison Tool that allows visitors to do a national comparison and ranking of districts for up to six demographic values. Comparisons can be presented in ascending or descending order for up to 75 Congressional Districts. The comparisons provided in the Congressional District Demographics article were created with this easy-to-use tool.
With these new features, HTL gives visitors the power to easily research any Congressional District based on a range of reliable data. They can quickly identify Congressional Representatives and their contact information. The ability to review District boundary maps and to easily compare and contrast districts on any range of demographic values can be informative and enlightening.
HomeTownLocator.com offers much more than Congressional District data. It is a widely used resource for learning about cities, towns, counties, neighborhoods, and ZIP Codes. Boundary maps and demographic data for eight levels of geography are a key part of each HTL state gazetteer.
-------------
ABOUT HomeTownLocator.COM
The HomeTownLocator® series of state gazetteers, produced by HTL, Inc., has been a popular online resource for local information for over 14 years. Data from the HTL state gazetteers is referenced in thousands of published articles and over 250,000 websites.