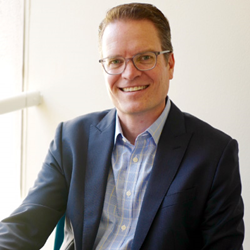 Success is not a solo venture. To succeed as an entrepreneur, you have to surround yourself with talented people who share your passion, and listen to them and to your customers every day.
MINNEAPOLIS (PRWEB) May 13, 2022
Ernst & Young LLP (EY US) today announced that GrandPad co-founder and CEO Scott Lien has been selected as a finalist for the prestigious Ernst & Young (EY) Entrepreneur of the Year® 2022 Heartland Award. Entrepreneur Of The Year is one of the preeminent competitive business awards for entrepreneurs and leaders of high-growth companies who think big to succeed. Lien was selected by a panel of independent judges according to the following criteria – entrepreneurial spirit, purpose, growth and impact – among other core contributions and attributes.
"The growth of GrandPad has been a true team collaboration, and I am honored to receive this recognition on behalf of our employees who all share a passion for reducing loneliness and isolation among seniors," said Lien. "What started with a desire to address a problem we were experiencing with my own parents has grown into a technology and service platform that is being used to connect more than 1.4 million seniors, families, friends, and caregivers in 120 countries."
First introduced in 2014, the GrandPad purpose-built tablet for people over the age of 75 became a lifeline for seniors, family members, friends, and caregivers during the COVID-19 pandemic. Since then, GrandPad has seen significant adoption among families, as well as healthcare providers who seek more efficient, effective ways to deliver virtual care to elderly and low-income patients. The GrandPad tablet was designed specifically to overcome all standard accessibility issues that seniors typically face, and to accommodate the physical and cognitive changes we all experience as we age, including vision and hearing loss, dexterity issues, and memory loss. Because every GrandPad tablet comes with built-in 4G LTE at no additional cost, it also supports digital equity and fosters safe and effective telehealth interactions.
Regional EY award winners will be announced on June 9, 2022 at The Fillmore Minneapolis. The regional winners will then be considered by the national independent judging panel, and National awards will be presented in November at the Strategic Growth Forum®, one of the nation's most prestigious gatherings of high-growth, market-leading companies. The Entrepreneur Of The Year National Overall Award winner will then move on to compete for the EY World Entrepreneur Of The Year™ Award in June 2023.
For over 35 years, EY US has celebrated the unstoppable entrepreneurs who are building a more equitable, sustainable and prosperous world for all. The Entrepreneur Of The Year program has recognized more than 10,000 US executives since its inception in 1986. Entrepreneur Of The Year Award winners have exclusive, ongoing access to the experience, insight and wisdom of fellow alumni and other members of the entrepreneurial community in over 60 countries — all supported by vast EY resources.
Lien attributes the rapid growth and success of GrandPad to the collaboration and entrepreneurial spirit of the broader team and the ongoing direction from the Grand Advisors, a group of GrandPad employees who guide product development for the company. The average age of the Grand Advisors is 83 and the oldest is over 100 years old. This group of employees has been instrumental in the evolution of the GrandPad tablet and the company's unique, highly personalized customer care model.
"Success is not a solo venture. To succeed as an entrepreneur, you have to surround yourself with talented people who share your passion, and listen to them and to your customers every day," said Lien. "I am grateful to the many employees, seniors, and families who have helped guide the evolution of our product over the years, and I thank you for trusting in GrandPad to keep you connected to the super seniors in your life. Because of you, our mission to end social isolation for seniors will one day be a reality."
About GrandPad
Based in Minneapolis, GrandPad is a digital health company that develops engagement solutions to improve the health and well-being of older adults by reconnecting them to families, friends, and caregivers through technology that is safe, reliable, and easy to use. The GrandPad purpose-built tablet for people over the age of 75 — the first mobile device of its kind — addresses usability, security, and connectivity issues that are often roadblocks for integrating remote monitoring and telehealth into professional and familial caregiving settings. The company's secure cloud platform with built-in LTE and web applications allows care teams and family members to engage remotely with older adults without depending on WiFi connectivity. GrandPad enables a variety of interactions, including video calls, sharing essential care-related emails and messages, and conducting multi-party video care conferences between family members and a patient's continuum of caregivers. For professional caregivers, GrandPad offers connected device capabilities that support enhanced telehealth and remote monitoring services provided by a growing number of in-home healthcare organizations. To learn more, visit GrandPad.net or connect with us on LinkedIn, Facebook, and Twitter @GrandPad_social.
Media contact: Barbara Tabor, APR 651.230.9192 barbara@taborpr.com
About Entrepreneur Of The Year
Entrepreneur Of The Year is the world's most prestigious business awards program for unstoppable entrepreneurs. These visionary leaders deliver innovation, growth and prosperity that transform our world. The program engages entrepreneurs with insights and experiences that foster growth. It connects them with their peers to strengthen entrepreneurship around the world. Entrepreneur Of The Year is the first and only truly global awards program of its kind. It celebrates entrepreneurs through regional and national awards programs in more than 145 cities in over 60 countries. National overall winners go on to compete for the EY World Entrepreneur Of The Year™ title. ey.com/us/eoy
Sponsors
Founded and produced by Ernst & Young LLP, the Entrepreneur Of The Year Awards are presented by PNC Bank. In the Heartland, sponsors also include Twin Cities Business, Padilla, Salo LLC and Colliers International.
About EY
EY exists to build a better working world, helping create long-term value for clients, people and society and build trust in the capital markets. Enabled by data and technology, diverse EY teams in over 150 countries provide trust through assurance and help clients grow, transform and operate. Working across assurance, consulting, law, strategy, tax and transactions, EY teams ask better questions to find new answers for the complex issues facing our world today. EY refers to the global organization, and may refer to one or more, of the member firms of Ernst & Young Global Limited, each of which is a separate legal entity. Ernst & Young Global Limited, a UK company limited by guarantee, does not provide services to clients. Information about how EY collects and uses personal data and a description of the rights individuals have under data protection legislation are available via ey.com/privacy. EY member firms do not practice law where prohibited by local laws. For more information about our organization, please visit ey.com. Ernst & Young LLP is a client-serving member firm of Ernst & Young Global Limited operating in the US.
###