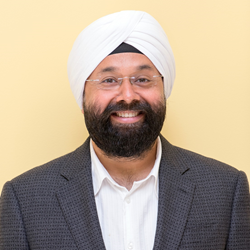 It is honor to be selected as a finalist for this award. Newmine is poised to revolutionize the way retailers view product returns and help them not only survive, but thrive during these unpredictable times
BOSTON (PRWEB) August 26, 2020
Ernst & Young LLP (EY US) announced today the selection of Navjit Bhasin, Founder and CEO of Newmine, as an Entrepreneur Of The Year® Award Finalist in New England. Since 1986, EY has honored entrepreneurial business leaders whose ambitions deliver innovation, growth, and prosperity as they build and sustain successful businesses that transform our world.
Bhasin was selected as a finalist by a panel of independent judges, who evaluated Bhasin and his company, Newmine, based on six criteria, including overcoming adversity; financial performance; societal impact and commitment to building a values-based company; innovation; and talent management.
Bhasin founded Newmine as a boutique retail consulting firm in 2011. Predicting the colossal problems product returns would have the retail industry, Bhasin united a team of retail experts to create Chief Returns Officer®, the market's first AI-powered SaaS offering that helps retailers reduce returns. Newmine has made reducing product returns an easy and efficient way for retailers to improve their top and bottom lines and achieve financial success during a turbulent 2020.
"It is honor to be selected as a finalist for this award. Newmine is poised to revolutionize the way retailers view product returns and help them not only survive, but thrive during these unpredictable times," says Navjit Bhasin. "Thank you to the dedicated and talented Newminers who turned the vision for Returns Reduction a reality."
Award winners will be announced through a special virtual event in early October and will join a lifelong community of esteemed Entrepreneur Of The Year alumni from around the world. This year, unstoppable entrepreneurs who have provided extraordinary support for their communities, employees and others during the COVID-19 crisis will also be recognized for their courage, resilience and ingenuity.
Receive up-to-date product, customer, and partner news directly from Newmine on LinkedIn.
About Newmine
Newmine was established in 2011 as a highly focused retail commerce optimization firm. Comprised of former retail and supply chain executives with deep experience in retail strategy, operations, and technology, Newmine's vision is to ensure retailers thrive in a transforming world. In addition to their operations and technology consulting practice, Newmine seeks to disrupt the returns management market with AI-driven returns reduction solutions. Newmine's Chief Returns Officer® is an AI-powered platform that gives retailers a holistic view of integrated returns-related data from across the enterprise, prescribes corrective actions, and enables collaboration. Companies using Chief Returns Officer® reduce return rates and improve their EBITDA. For more information, visit http://www.newmine.com.
About Entrepreneur Of The Year®
Entrepreneur Of The Year® is the world's most prestigious business awards program for unstoppable entrepreneurs. These visionary leaders deliver innovation, growth and prosperity that transform our world. The program engages entrepreneurs with insights and experiences that foster growth. It connects them with their peers to strengthen entrepreneurship around the world. Entrepreneur Of The Year is the first and only truly global awards program of its kind. It celebrates entrepreneurs through regional and national awards programs in more than 145 cities in over 60 countries. Winners go on to compete for the EY World Entrepreneur Of The Year™ title. Visit ey.com/us/eoy to learn more.
About EY
EY is a global leader in assurance, tax, strategy, transaction and consulting services. The insights and quality services we deliver help build trust and confidence in the capital markets and in economies the world over. We develop outstanding leaders who team to deliver on our promises to all of our stakeholders. In so doing, we play a critical role in building a better working world for our people, for our clients and for our communities.
EY refers to the global organization, and may refer to one or more, of the member firms of Ernst & Young Global Limited, each of which is a separate legal entity. Ernst & Young Global Limited, a UK company limited by guarantee, does not provide services to clients. Information about how EY collects and uses personal data and a description of the rights individuals have under data protection legislation are available via ey.com/privacy. For more information about our organization, please visit ey.com.