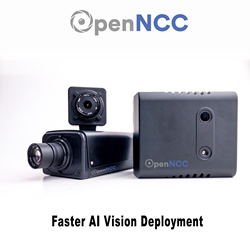 We are excited to provide AI vision system developers with an open platform that they can use to deploy their vision solutions to the field faster.
SAN JOSE, Calif. (PRWEB) October 03, 2020
EyeCloud.AI Introduces First Open AI Vision Appliance
Vision Developers Deploy Deep Learning Solutions Faster with Fully-Integrated AI Camera Appliance
EyeCloud.AI introduces OpenNCC, an industrial grade vision appliance for deep-learning vision system developers that accelerates field deployment of commercial AI vision solutions.
Since the advent of AI in computer vision, plenty of toolkits and frameworks have evolved to train models based on Deep Learning (DL) algorithms. Yet, developers of commercial vision solutions have problems finding a fully integrated yet open hardware platform that seamlessly supports rapid field deployments. 
Getting AI vision solutions into the field quickly is critical for capturing real-world training data, field testing prototypes and ramping up production deployments. Traditional machine vision systems consisting of camera, connectivity, and computer hardware create massive pains in complexity, field logistics, and cost.  In addition, traditional machine vision vendors lock their clients into their proprietary development environments. Thus, developers cannot benefit from the best available AI/ ML vision tools and models.
Therefore, the AI vision technology expert EyeCloud.ai has now released the Open Neuro-Compute Camera, OpenNCC (https://www.openncc.com/), a computer vision hardware platform for developers.
Customer benefits of OpenNCC vision appliance at a glance:

Reliable: Designed for demanding commercial applications
Versatile: High-quality images captured by a global shutter color image sensor with 2.3 MP resolution at up to 120 fps for demanding applications, even under challenging motion and lighting conditions
Powerful: High-performance DL inference processing with 4 TFlops, Intel® Myriad™ Vision Processing Unit (VPU), to apply complex pre-trained DL models on real-life video in real time
Flexible: Device hardware is fully open to various Deep Learning toolkits and frameworks – no lock-in to proprietary offerings
Fast: Natively supported by AI development tools for fast deployment
SWaP-C: Versions available which are optimized in Size, Weight, Power consumption, and Cost
OpenNCC is available in three variants, with a compact USB3 version, "bullet"-sized Ethernet version with PoE for monitoring, and an IR Thermal+Color version. All OpenNCC vision appliances are designed for 24/7 operation. They provide AI vision hardware and software for real-time video analytics based on Intel's Myriad X VPU. The natively supported Intel® distribution of the OpenVINO™ toolkit automatically maximizes the inference performance.
The performance of OpenNCCs' real-time video analytics is further supported by low-noise and high-contrast images delivered from an industrial-grade CMOS global-shutter image sensor with 2.3 MP and 120 fps together with a dedicated ISP for video pre-processing. Thanks to this camera design, DL models can maintain high recognition performance even under challenging motion and lighting conditions.
OpenNCC is easy to use with the latest DL frameworks: Caffe, TensorFlow, MXNe, Kaldi, and ONNX. The computer vision software development tools of alwaysAI (https://alwaysai.co/) natively support OpenNCC cameras, provide easy access to pre-trained AI models, and simplify the application deployment for optimal productivity.
Other commercial DL camera vendors force their developers to use their often costly hardware and software solutions. Thanks to the open software approach of OpenNCC, developers get the best of both worlds: The freedom of choice regarding their preferred DL framework + an easy-to-use, easy-to-deploy, and cost-effective hardware for field deployment.
"We are excited to provide AI vision system developers with a open platform that they can use to deploy their vision solutions to the field faster. It is great to see our years of experience in delivering AI camera products packaged into a turnkey solution for our customers." EyeCloud.AI VP of Marketing and Business Development, Dale Hitt
Steve Griset, Co-Founder and Chief Technology Officer of alwaysAI, commented: "OpenNCC has tremendous potential in the rapidly growing Computer Vision marketplace. Now developers can use alwaysAI for the CV business logic and OpenNCC for production-ready deployment."
OpenNCC is launching on September 30, 2020.  For product details go to https://www.openncc.com/.
Contact details
Dale Hitt, dalehitt@eyecloud.ai
EyeCloud, Inc.
171 Branham Lane,
Ste 10 #243,
San Jose, CA 95136,
United States
About EyeCloud.AI
EyeCloud.AI is an AI vision technology company that delivers leadership open appliances for computer vision solution developers. EyeCloud.AI strives to accelerate the adoption of AI vision for smarter products that improve quality-of-life for people around the world.
http://www.eyecloud.ai
Links:
Product: https://www.openncc.com/
Media Downloads:
OpenNCC AI vision appliance series: https://bit.ly/2HRHSIk
OpenNCC key features: https://bit.ly/30oZlht
EyeCloud.ai logo: https://bit.ly/2SjM1Xr
OpenNCC in industrial automation: https://bit.ly/3cU0X7X
OpenNCC in body temperature monitoring: https://bit.ly/33lzKbo
OpenNCC in health care: https://bit.ly/3cR1est
OpenNCC in operational safety: https://bit.ly/36xz0lz