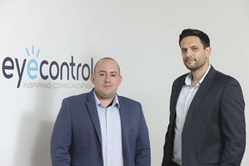 TEL AVIV, Israel (PRWEB) August 12, 2020
EyeControl, a leading supplier of assistive communication devices for ventilated and "locked-in" patients, today announced it has closed a Series A round of funding and has won the Enhanced European Innovation Council's (EIC) COVID-19 Pilot Program, securing over $10M in combined funding.
EyeControl becomes the first Israeli company to be awarded both the European Commission's (EC) Horizon 2020 SME instrument phase 2 program and the EIC Accelerator. The new funding will allow the company to grow by expanding its hospital activity and enhancing strategic partnerships. EyeControl also announced that digital health entrepreneur Avner Halperin has been appointed as chairman of its newly expanded board of directors.
"I am very excited and proud to take part in EyeControl's mission to improve communication for ventilated patients," said Halperin. "Management has led the company to great achievements, including the recent EIC win. The EC recognizes that EyeControl is solving a critical issue with tremendous global impact. This funding will assist the company in accelerating growth and strategic partnerships worldwide."
The company's latest investment round, led by Connecticut Innovations, includes Benslie International Ltd, Clive Barret and Menomadin Foundation with participation from existing investors, including Benny Levin (founder and former CEO of NICE), Itsik Danziger (former president of Comverse), Jim Elkind (private healthcare investor), Avi Kornreich (former CEO of Agentek), Zora Ventures, Impact First and Rimonci Capital.
"The combined support of the new board members joining as part of this funding round, as well as the continued support of the EC, paves the way for EyeControl's future success," said Matt Bloom, investments director at Connecticut Innovations and EyeControl board member. "With its innovative technology and bright team, we strongly believe this company will stand out and is well positioned for success."
EyeControl's funding milestones have been achieved against the backdrop of the COVID-19 pandemic, which fueled the preexisting need for an innovative communication solution for ventilated patients in a medical facility environment. The company is piloting its medical device at hospitals treating patients with COVID-19, helping preserve lines of communication between ventilated patients and nurse stations outside quarantine.
"We are very thankful to our new and existing investors for their trust and financial support as well as the access we have to their expertise and professional networks," says Or Retzkin, EyeControl's CEO and co-founder. "The appointment of Avner Halperin as chairman of the board will accelerate the company's growth potential. His extensive experience will play a crucial role in bringing our disruptive technology to the forefront of global healthcare."
About EyeControl:
EyeControl is an Israeli startup established in 2016 by three entrepreneurs who share unique personal connections to locked-in individuals; they joined forces to create innovative solutions for the communication needs of these patients.
The EyeControl is the first wearable, screenless assistive communication device. AI-powered eye-tracking technology enables remote communication between ventilated ICU patients, their families and medical care teams. The EyeControl also improves quality of life for ventilated and locked-in home care patients, by providing round-the-clock communication with family members and caregivers. The EyeControl is CE marked, FDA listed and ISO certified. It is reimbursed by the U.S. Centers for Medicare and Medicaid Services, UK National Health Service and the Israeli Ministry of Health.