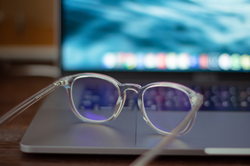 For all of these reasons and more, Glasses USA earns another first-place ranking among online retailers of Eyeglasses in 2020
OVERLAND PARK, Kan. (PRWEB) November 26, 2020
TopConsumerReviews.com once again awarded their highest five-star rating to Glasses USA, an industry leader among stores offering Eyeglasses.
In today's increasingly busy world, who wants to spend time shopping for eyeglasses? The visit to the optometrist already takes an hour (or longer!), and it can be challenging to take time away from work and other responsibilities to go out and buy glasses with the new prescription. Fortunately, there are numerous eyewear retailers that eliminate all of the hassle of in-person shopping, with cutting-edge tools to help customers buy their eyeglasses online. These tools include the ability to "try on" frames using the camera from a mobile phone, to take all of the required measurements for the best fit, and so forth. And, online retailers of eyeglasses tend to have an inventory that goes well beyond what can be found at a brick-and-mortar store, with options for every budget and style.
"Glasses USA continues to stand out among online retailers of Eyeglasses," confirmed Brian Dolezal of TopConsumerReviews.com, LLC. "Shoppers are amazed by their inventory of nearly 1,500 frames, and by the ease of finding the right shape, style and price on Glasses USA's well-designed website. Customers can use a 'virtual mirror' to see how the eyeglasses will look on their face, and this retailer even has a smartphone app that can determine the prescription on an existing pair of glasses! Glasses USA is extremely customer-friendly, offering price matching, student discounts, and a 14-day full refund policy. For all of these reasons and more, Glasses USA earns another first-place ranking among online retailers of Eyeglasses in 2020."
To find out more about Glasses USA and other retailers of Eyeglasses, including reviews and comparison rankings, please visit the Eyeglasses category of TopConsumerReviews.com at https://www.topconsumerreviews.com/eyeglasses/.
About Glasses USA
Glasses USA operates in over 92 countries, making affordable glasses accessible for anyone in need of vision correction. Their customer-centric philosophy puts a team of dedicated experts and experienced customer service representatives at their customers' disposal around the clock, 365 days a year, along with a risk-free shopping guarantee. Glasses USA has helped over 2 million eyes see better.
About TopConsumerReviews.com
TopConsumerReviews.com, LLC is a leading provider of reviews and rankings for thousands of consumer products and services. Eyeglasses to Jewelry Stores and Home Gyms, TopConsumerReviews.com delivers in-depth product evaluations in order to make purchasing decisions easier.