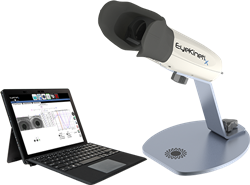 "The RAPDx score provides a highly sensitive and specific assessment of the RAPD," said Nicholas Volpe, MD, Northwestern University. "It is easily used by ancillary personnel and is a powerful tool for clinicians needing to identify, confirm and quantify relative afferent pupillary defects."
IRVINE, Calif. (PRWEB) September 06, 2019
Konan Medical today announced that EyeKinetix is FDA Listed and now available for sale with customer deliveries commencing immediately.
EyeKinetix is Konan's 2nd generation pupillograph which is smaller, faster, easier to use, less expensive, and more full featured than its predecessor, RAPDx®, a device that brought key pupillary testing advancements, not seen for more than a century.
EyeKinetix features the RAPDx® objective, automated test to assess Relative Afferent Pupillary Defects in less than one minute. RAPD measures have historically been performed manually with a swinging flashlight method generally regarded as being difficult for clinicians to do well. The device will also measure high- and low-light pupil sizes which may be useful to physicians in planning for multifocal IOLs, contact lenses, and refractive surgery implications and is designed for the Company to add additional testing features over time. EyeKinetix is delivered with Konan's proprietary, precision color and luminance calibration system on a tablet/PC with a free 90-day trial of ColorDx® CCT HD®, Konan's color vision diagnostics test. CCT HD was designed with the US Air Force school of Aerospace Medicine and OBVA team.
"The RAPDx score provides a highly sensitive and specific assessment of the RAPD as tested by the swinging flashlight method." said Nicholas Volpe, MD, Chair, Department of Ophthalmology, George W. and Edwina S. Tarry Professor of Ophthalmology at Northwestern Medicine's Feinberg School of Medicine in Chicago, IL. "It is easily used by ancillary personnel as part of the screening of patients and is a powerful tool for clinicians needing to identify, confirm and quantify relative afferent pupillary defects."
Examining pupils for RAPDs is recommended in several of the American Academy of Ophthalmology's Preferred Practice Patterns® for adult eye exams and open angle glaucoma and is recommended by the American Optometric Association in several Clinical Practice Guidelines including pediatric and adult comprehensive eye exam and open angle glaucoma.
"There has been significant anticipation of this product and we are really excited to bring this new technology to market" said Ian McMillan, Vice President of North American Sales and Marketing at Konan Medical. "EyeKinetix, with the RAPDx test, is already viewed by the ophthalmic community as a quick, affordable, objective solution for one of few procedures left that are not performed using a diagnostic ophthalmic device."
"EyeKinetix is a collaboration with UT Dallas School of Biomedical Engineering and represents the best aspects of our first generation pupillograph with innovative engineering from the UT Dallas team," said Charles Wm. Stewart, OD, CEO of Konan Medical USA. "There has been considerable effort placed in enhanced value, precision, lower price-points, but with clear pathways to add-in software-driven features for the product."
The newly released EyeKinetix will be featured at Konan Medical exhibits at the European Society of Cataract and Refractive Surgery meeting (ESCRS) in Paris France and the Vision Source Administrator's Meeting in Houston, Texas in early September.
About Konan Medical USA, Inc.
Headquartered in Irvine, California, Konan Medical USA Inc. is an FDA registered, ISO 13485 MDSAP certified company that develops, sells, and services specialized diagnostic products for eye care clinicians, eye banks and other neuro-vision related specialties. The Company's objectiveFIELD™ (OFA®) objective perimeter technology is completing manufacturing engineering with expected availability in Q4 2019 or Q1 2020. The company also provides diagnostic equipment and support services to many of the leading ophthalmic manufacturers in support of sponsored clinical trials research globally.
For more information visit http://www.KonanMedical.com
Preferred Practice Pattern is a registered trademark of American Academy of Ophthalmology
###