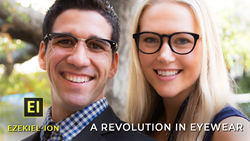 Nanotech glasses that do more than just protecting the user's eyes
TORONTO (PRWEB) February 04, 2020
Ezekiel-ion, an Ontario, Canada-based nanotechnology company that designs and creates eyewear for eye health, protection, and preservation in a world filled with harmful digital screens, UV rays, and EMF radiation, today announced they are launching Kickstarter crowdfunding campaign for the first-ever luxury nanotech eyewear with advanced eye protection and therapeutic functions.
Our eyes are bombarded with blue light from digital screens, UV rays from the sun and EMF radiation from electronic devices. Many suffered dry eyes, red eyes, eye strain, blurred vision, headaches, and even brain tumors as a result. On top of these, many people already are living with vision impairment, such as eye floaters, astigmatism, myopia, presbyopia, cataract, and other eye problems.
"We've created a new kind of glasses that will do more than just keeping the eyes from the damage that seeps through all of our screens today," said Jack Huang, Founder, and Owner of Ezekiel-ion, Inc. "Ezekiel-ion glasses will not only protect against blue light, UV and EMF radiation, they will also have the unique ability to actually help improve eye health through our proprietary nanotech frames that release negative ions and far-infrared (FIR). They will even filter the air we breathe. This may sound incredible, but they are scientifically proven.*"
Scientific studies have shown that negative ions and FIR help the body to heal itself*, potentially relieving myopia, eye floaters, astigmatism, dry and red eyes, cataracts, eye bags, and glaucoma. In a nutshell, these glasses release natural healing negative ions and FIR that are going to help eyes everywhere.
"We are only given one pair of eyes in this lifetime; how you treat them is up to you," said Huang. "That's why we are excited to announce the launching of our Kickstarter campaign. We invite you to be part of this visual movement."
The new Ezekiel-ion glasses offer the users effective protection from blue light, UV and EMF radiation as well as releasing negative ions and far-infrared. In doing so, Ezekiel-ion glasses help improve existing eye conditions and offer functions not found in any of today's eye glasses.
For more information, visit:
Kickstarter: https://www.kickstarter.com/projects/ezekiel-ion/ezekiel-ion-the-glasses-you-want-to-wear-all-the-time
Company website: https://www.ezekiel-ion.com
*References (examples):
1. Far infrared radiation (FIR): its biological effects and medical applications, 2012 https://www.ncbi.nlm.nih.gov/pmc/articles/PMC3699878/
2. Far-Infrared Therapy Promotes Nerve Repair following End-to-End Neurorrhaphy in Rat Models of Sciatic Nerve Injury, 2015 https://www.ncbi.nlm.nih.gov/pmc/articles/PMC4333284/
3. Negative Air Ions and Their Effects on Human Health and Air Quality Improvement, 2018 https://www.ncbi.nlm.nih.gov/pmc/articles/PMC6213340/
4. Water-generated negative air ions activate NK cell and inhibit carcinogenesis in mice, 2005. https://www.ncbi.nlm.nih.gov/pubmed/16171944