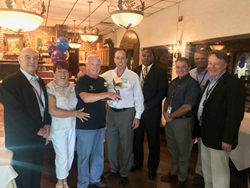 Tom Norden's commitment, expertise and respect throughout the aviation industry is applauded today and everyday.
RONKONKOMA, N.Y. (PRWEB) July 17, 2018
On Friday, July 6, 2018, The Federal Aviation Administration and International Jet Interiors honored their own Tom Norden with the distinguished Charles Taylor Master Mechanic Award. One of the most prestigious awards to be bestowed upon an individual in aviation, The Charles Taylor Master Mechanic Award recognizes the lifetime accomplishments of senior aviation mechanics.
Over the past 10 years, Mr. Norden has been a dedicated employee at International Jet Interiors and has pledged his service, professionalism and extraordinary technical and maintenance expertise to the aviation field. Notable aircraft that Tom Norden has expertly worked on during his career include Boeing, Airbus, Falcon, Bombardier, Challenger, Global Express,Gulfstream, Learjet, and Sikorsky Helicopters. Included among these elite aircraft that Mr. Norden has worked on with his team at International Jet Interiors is the United States President Donald J. Trump's Boeing 757 and Sikorsky S76 helicopter.