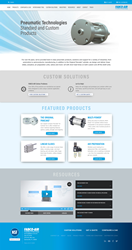 GAINESVILLE, Fla. (PRWEB) October 21, 2020
Fabco-Air, a member of the Festo Group and a leader in inch dimensioned actuators for the North American pneumatics market, unveiled today its upgraded website – http://www.fabco-air.com.
"With this new website, Fabco-Air transforms the presentation of its pneumatic technologies and solutions – both standard and custom," said Scot LaMar, President and General Manager. "We've improved the users' experience with upgraded productivity tools, expanded information, and easier navigation."
LaMar said that users can now easily configure a product and then automatically and quickly receive a quote, 2D and 3D CAD models, and detailed product information. The enhanced Fabco-Air interchange tool identifies for users the exact match between an installed product and the Fabco-Air replacement for fast and effective maintenance and repair. Users simply enter the make and model of the installed product to find the Fabco-Air interchange equivalent.
Fabco-Air provides expanded industry and product specific information, as well as information on custom solutions, to help customers make more informed buying decisions. Blogs and white papers add depth. Utilizing the resources of Festo in terms of state-of-the-art web design, the revised Fabco-Air website features intuitive menus and page layout, fast response, and the capability to locate information within three clicks or less.
For more information on Fabco-Air solutions, visit the company's new website, http://www.fabco-air.com.
About Fabco-Air
Fabco-Air, a member of the Festo Group, is recognized for its leadership in inch dimensioned actuators for the North American pneumatics market. Fabco-Air's Pancake® air cylinder series is the industry's number one compact cylinder solution in terms of performance and quality. The company provides both standard and custom products as well as configuration and interchange tools that boost the productivity of its customers. Fabco-Air products are also available through the Festo catalog and distribution network. http://www.fabco-air.com