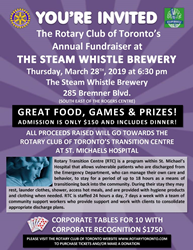 "Fabio Ventolini has done significant work for the club in terms of his contribution to fundraising, leadership of the fundraising committee and consistent involvement in club activities."
TORONTO (PRWEB) February 15, 2019
The Rotary Club of Toronto is hosting their 11th Annual Fundraiser at The Steam Whistle Brewery on 285 Bremner Blvd (south east of the Rogers Centre) on Thursday March 28th, 2019 from 6:30pm.
All proceeds will be going towards The Rotary Club of Toronto's Transition Centre (RTC) at St. Michael's Hospital. This is a program that allows vulnerable patients who have been discharged from the Emergency Department, who are able to manage their own care and behaviour, to stay at the hospital for a period of up to 18 hours in effort to transition back into the community. During their stay at the RTC they can rest, wash their clothes, shower, have hot meals and are also provided with hygiene products and clothing if necessary. The RTC is staffed 24 hours a day, 7 days a week by a team of community support workers who provide support and work with clients to create an appropriate discharge plan.
Guests of the 11th Annual Fundraiser will be treated to a delicious dinner and drinks, fun with friends, and chances to win amazing prizes. Prizes from previous events include a Toronto Blue Jays box experience for 20, dinner at The National Club for 4, overnight stays in Deerhurst Niagara Falls, Toronto Argonauts tickets, go karts, jet simulators and a used hockey stick signed by Phil Kessel from the Sochi 2014 Winter Olympic bronze medal game. The Annual Fundraisers have also had an impressive portfolio of sponsors, including Bellwether Investment Management, Mackie Research Capital, EWA Capital Partners, RBC Dominion Securities, Harvey Kalles Real Estate, Arcadia Home Care and more. To purchase a ticket or donate, click here.
The Rotary Club is a worldwide organization comprised of over 1.2 million business, professional, and community leaders in 200 countries that strive to make a difference in the community in which they live. Members of the club develop community service projects that address critical social issues including children at risk, poverty and hunger, urban violence, illiteracy and drug abuse. With over 160 members, The Rotary Club of Toronto is one of the largest clubs in Canada and one of the oldest Rotary clubs around the globe. Some of their ongoing projects include the Childrens' Holiday Party, Sprint Program and Sweat Equity Weekends.
Event leader Fabio Ventolini is a seasoned member of The Rotary Club of Toronto and has been involved with its fundraising for over 12 years. He has done significant work for the club in terms of his contribution to fundraising, leadership of the fundraising committee and consistent involvement in club activities. In 2011, he won the Club Builder Award that recognizes members that have made a significant impact in supporting and strengthening the club.
Last year, he led the sold-out Annual Fundraiser to revenues in excess of $95,000, towards the Rotary Club of Toronto's Charitable foundation donation to the Sherbourne Health Bus, a program with the Sherbourne Health Centre that allows homeless people in Toronto to have access to healthcare via Canada's first mobile health vehicle. Outside of the club, Ventolini has more than 21 years of experience as a trusted specialist in tax, retirement and estate planning for executives and business owners. He currently works at Bellwether Family Wealth.
About The Rotary Club of Toronto: The Rotary Club of Toronto is an organization that works to make a positive impact on numerous economic, social and environmental challenges. This includes homelessness, hunger, social injustice, gender inequality, access to education, environmental sustainability and challenges faced by recent immigrants and the poor. Funding is directed to fields of health, education, youth and welfare primarily in the Greater Toronto Area, but also globally. In the 2016 and 2017 period alone, The Rotary Club of Toronto raised over $850,000 supporting initiatives and other organizations including holiday parties with the Eastview Neighbourhood Community Centre, summer camp programs for children with the Cabbagetown Youth Centre, water and sanitation projects in Malawi with Emmanuel International, and developing a Learning Center in Siem Reap with the Children's Improvement Organization Cambodia.
This article was written by My An Tran, Senior Copywriter at Mrkt360.