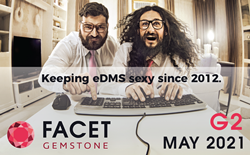 "We listened to our customers and our Gemstone Advisory Panel in developing G2. While G2 would make an excellent dinner companion, its new interface and author-friendly features make it even better: the perfect, easy-to-use choice for any company who wants to connect its team toward a goal."
WAYNE, Pa. (PRWEB) May 10, 2021
Facet Life Sciences, a leading provider of development software and services for small and growing life sciences teams, today announced the exciting release of Gemstone version 2(G2), a significant enhancement to its flagship Electronic Document Management System (EDMS) and collaborative authoring platform. Your EDMS just isn't this amazing.
Gemstone is an affordable, cloud-based document management system designed for research and development teams ranging from start-up to medium-sized organizations. The new release includes a completely revamped interface (that's really more exciting than it sounds!), performance enhancements and several tools to make working with documents simpler and easier. G2 is so interesting and appealing, if it were a person, you'd want to take it to dinner to get to know it better!
Gemstone still provides the ability to easily add, modify, collaboratively edit, archive, or preview documents. With this new release, Gemstone takes a leap ahead in delivering value-added tools to make the task of creating, sharing, and managing documents toward a regulatory goal faster and easier. Who doesn't love fast and easy?
As always, learning Gemstone is easy. We promise! We provide support for migrating your existing documents and will even give you a map so you can find them. We've done this more than a few times, so we know what works! ...and Gemstone will never break the bank.
Simple, Secure, and Compliant that's also Fast, Easy, and budget Friendly. Who doesn't like all those things?!
G2's new features include:
The ability "pin" one or more favorite documents to your home page for fast, one-click access (we bet you'll really like this one).
Enhanced Collaboration tools, enabling a more personalized Collaboration experience (helping bring people together, it's what we do. Actually, we do compliant regulatory success, but that's about people too).
Quick access to valuable information via "hover over" messaging (Super-fast! Save time!)
Significantly enhanced submission building tools (you're going to want the test drive to see how well it handles).
Quick view indicators showing document status, both for DMS and submission building modes (We're really big on this quick and easy thing.)
Ken VanLuvanee, President and CEO, Facet Life Sciences, commented, "We listened to our customers and our Gemstone Advisory Panel in developing G2. While G2 would make an excellent dinner companion, its new interface and author-friendly features make it even better: the perfect, easy-to-use choice for any company who wants to connect its team toward a goal."
About Facet Life Sciences
Facet Life Sciences is the leading provider of innovative development solutions (software and services) designed to help small to mid-sized teams successfully get to and through the FDA©. Our Product Development Champions deliver expert nonclinical, CMC, and clinical regulatory services using cutting-edge technologies that speed product R&D efforts. Facet teams create and manage critical development documentation for some of the industry's fastest growing, most innovative life sciences companies.