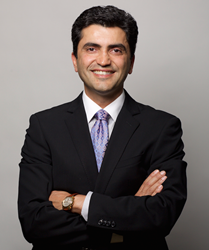 Rhinoplasty rejuvenation takes traditional nose surgery to the next level
BEVERLY HILLS, Calif. (PRWEB) June 18, 2020
Dr. Babak Azizzadeh, a world-renowned facial plastic and reconstructive surgeon and Chairman and Director of the CENTER for Advanced Facial Plastic Surgery in Los Angeles, has introduced a revolutionary rhinoplasty rejuvenation procedure to help patients revitalize their facial appearance. With rhinoplasty rejuvenation, Dr. Azizzadeh blends multiple facial plastic and reconstructive treatment techniques into a single procedure.
As people get older, the bone structure around the nose resorbs (regresses), and nose cartilage and skin lose elasticity. The result: a droopy nasal tip and other nose issues that can make people look older than their actual age.
Traditionally, rhinoplasty surgery has been used to treat nose deformities. The surgery involves reshaping or resizing the nose so that it appears symmetrical and proportional to the rest of the face. Although a rhinoplasty can help improve the nose's appearance, additional procedures may also be required to ensure the nose is in perfect harmony with the cheeks, chin, and other facial features.
Rhinoplasty rejuvenation can help patients treat facial wrinkles, sagging skin, and other visible signs of aging in different areas of the face. The procedure combines rhinoplasty surgery techniques with others used in various facial plastic treatments, such as:
Eyelid Lift: Eliminates bags from the lower eyelids and/or excess skin from the upper eyelids
Facelift: Corrects visible signs of aging in the face and neck
Laser Skin Resurfacing: Addresses skin damage, scars, wrinkles, and other facial blemishes
During a rhinoplasty rejuvenation treatment, Dr. Azizzadeh uses fascia to increase padding around the nose, skin, and nasal tip. This allows Dr. Azizzadeh to treat multiple facial flaws at once to rejuvenate the facial appearance.
"Rhinoplasty rejuvenation takes traditional nose surgery to the next level," Dr. Azizzadeh says. "In addition to helping patients enhance the appearance of the nose and ensure the nose functions properly, the procedure makes it easy for them to quickly and safely achieve a balanced, natural-looking facial appearance."
Dr. Azizzadeh is available to discuss rhinoplasty rejuvenation and other facial plastic and reconstructive procedures. To learn more or to schedule a consultation, please contact the CENTER today.
For more on Dr. Azizzadeh and the CENTER for Advanced Facial Plastic Surgery, visit http://www.facialplasticsbh.com.
About Dr. Babak Azizzadeh and the CENTER for Advanced Facial Plastic Surgery:
Dr. Babak Azizzadeh, Chairman and Director of the CENTER for Advanced Facial Plastic Surgery, is one of the leading international experts in facial plastic surgery. His expertise in cosmetic and reconstructive plastic surgery has made him one of the most sought-after physicians. Dr. Azizzadeh's client list includes not only celebrities, executives, physicians and dignitaries from around the world, but also amazing people from all walks of life. He has been featured in The Oprah Winfrey Show, People Magazine, New York Times, Discovery Health, Los Angeles Times, Beverly Hills Courier and numerous other media outlets for his expertise in facial plastic surgery. Dr. Azizzadeh is one of a select group of surgeons who are double board-certified by the American Board of Facial Plastic and Reconstructive Surgery as well as the American Board of Otolaryngology-Head and Neck Surgery. His plastic surgery colleagues have consistently chosen him as one of the Top Doctors in Beverly Hills, CA. For more information, please visit https://www.facialplasticsbh.com/
Media Contact: Chloe, CENTER for Advanced Facial Plastic Surgery, 310-657-2203, chloe@facialplasticsbh.com