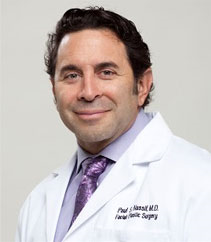 Los Angeles, CA (PRWEB) September 08, 2015
Renowned Los Angeles facial plastic surgeon, Dr. Paul Nassif, is providing patients with a complete facial rejuvenation through a combination of procedures. Each individual is given a personal consultation with the doctor to discover the correct solutions available in order to restore a more youthful appearance.
"An adult of any age can become a candidate for procedures that rejuvenate the face," Dr. Nassif, expert in cheek lift procedure in Los Angeles, explains. "Regardless of the amount of areas the patient wants to treat, I can create a solution to restore their best appearance."
A full facelift is always an option, but it is not always the best solution for every individual. The best rejuvenation is going to tighten the skin and lift the underlying tissue in the areas that are noticeably aging. Possible treatments include the following:

Cheek lift
Eyebrow lift
Upper eyelid lift
Neck lift
Facial fillers
Patients that receive a brow or forehead lift typically experience minor rejuvenation of the upper eyelid area, as well. It is smart to avoid a full facelift option if it is not needed, because other techniques help to avoid potential over-correction, also. The mid-facelift helps restore lost contour in the cheeks by pulling and securing the internal fat pad back into its natural position. When viewing cheek lift surgery before and after pictures, it is obvious that this treatment also slims the lower portion of the face.
"When a lift is performed, there are so many benefits that the patient is going to experience," states D. Nassif. "Removing a portion of loose skin helps eliminate the embarrassing wrinkles, and it also improves the contour of tissue so that the patient looks younger."
Once rejuvenation is complete, then the doctor can focus on specific facial features through specialty treatments. The expert in double eyelid procedure in Los Angeles might recommend a rhinoplasty, lip lift, or chin augmentation if it is going to benefit the appearance of the patient.
Dr. Nassif is an expert with many different facial treatments, including revisions to prior surgeries that were unsatisfying. His specialty is in rhinoplasty and facelifts, but anyone that works with the doctor can expect discreet results. As a man of many talents, the expert in eyebrow lift revision surgery in Los Angeles continues to work hard to perfect every procedure he offers.