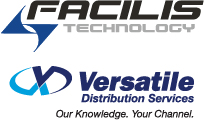 HUDSON, Mass. (PRWEB) June 15, 2020
Facilis, a leading international supplier of cost-effective, high performance shared storage solutions for collaborative media production networks today announced its partnership with Versatile Distribution Services to distribute their products throughout North America, South America, Central America & the Caribbean.
Versatile Distribution Services (VDS), located in Marlboro, MA, specializes in complete workflow solutions for the Media and Entertainment Industry in support of their ISV and OEM partnerships. Through their ability to augment sales, marketing, and logistics, they take a hands-on approach with manufacturers that they carry and the reseller channel they support, right down to the end-user.
"Facilis is very excited about the opportunity to work with Versatile as we strategically grow and expand our business in the Americas. We have a large customer base of media companies utilizing our storage solutions today. We believe Versatile can take Facilis to the next level by adding to our already extensive Reseller Channel. They bring storage and industry expertise to help us broaden our reach and to go to market successfully", said Shane Rodbourn, Facilis Chief Operating Officer.
Versatile Distribution Services is a value-add, boutique-style distributor providing experienced guidance with complex compute configurations, high-speed networks, and performance storage. They specialize in complete workflow solutions to meet the needs of their reseller channel and, ultimately, the end customer.
"We are pleased to be working with Facilis Technology as a trusted partner and to add to our portfolio. The Facilis HUB Shared Storage platform is a powerful solution for media professionals, and we believe we can bring incremental business opportunities", according to Amy Wade, VDS Vice President. "Facilis products are complementary to many of the solutions we distribute already, so we see this as extremely positive and a logical next step."
About Facilis Technology
Founded in 2003, Massachusetts-based Facilis Technology, Inc. designs and builds premium; turnkey shared storage solutions for collaborative media production across all content creation workflows. Their production-proven solutions are designed for use by the craft editor, facility engineer, and owner-operator alike. Flexible, scalable, and compatible with industry-standard creative solutions, Facilis' products blend seamlessly into any network environment and have been installed in thousands of facilities worldwide. https://facilis.com/
About Versatile Distribution Services
Versatile Distribution Services (VDS) is a value-add distributor, specializing in high-performance computing systems, providing complete workflow solutions in support of their ISV and OEM partners, to meet the needs of our reseller channel. Versatile offers Complete Workflow Solutions from Hardware & Software to Ingest & Archive. VDS brings a consultative Sales approach, product knowledge, qualified configurations, and event representation for their reseller channel. VDS has an entire Professional Services team with a diverse portfolio in IT consulting, Security, Asset Recovery, Virtualization, implementation, and integration Experts. Versatile offers Integration & Configuration Services from Pre-staged solutions, Custom Imaging, labeling & branding, add-on hardware and OS integration, to Complex RAID. https://www.versatileds.com/
All trademarks, trade names, service marks and logos referenced herein belong to their respective companies.
For more information, please contact:
Facilis Technology
108 Forest Avenue - Suite 200
Hudson, MA 01749
978-562-7022
Kelly Taranto – Sr. Sales & Marketing Manager
pr@facilis.com
http://www.facilis.com
Versatile Distribution Services
450 Donald Lynch Blvd.
Marlboro, MA 01752
1-855-824-0568
http://www.versatileds.com
PR/Marketing Contact
Tim Lord
Boston Impressions
100 Factory Street
Nashua, NH 03060
603-841-8841
tim@bostonimpressions.com