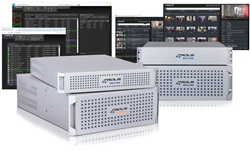 HUDSON, Ma. (PRWEB) September 07, 2020
Facilis, a leading international supplier of cost-effective, high performance shared storage solutions for collaborative media production networks, is pleased to announce new updates coordinating with IBC Showcase 2020.
Facilis will be participating in this virtual event with version 8.0.3 of the Facilis Shared Storage System, version 3.6 of its FastTracker Media Asset Management software, and new Facilis Edge Sync for remote access on display.
Facilis Shared Storage Version 8.0.3 continues to build on Facilis Shared File System capabilities and functionality including unique software-defined Bandwidth Priority, SSD Tiering and Multi-disk Parity:

Bandwidth Priority delivers full throughput to all workstations during normal operation but prioritizes workstations to maintain greater throughput when the server enters a high-load condition. This priority setting is dynamic and can affect client performance within seconds of applying.
Software-defined Multi-disk Parity can be enabled for up to 4 drive failures per drive group, on a project-based, virtual volume-basis. This technology allows owners of aging systems to better protect their assets from data loss due to drive failure.
SSD and HDD tiering was developed to deliver dedicated speed for projects needing SSD-level performance, while maintaining a perpetual HDD-based mirror.
Facilis FastTracker version 3.6 is included with all Facilis servers and continues to advance its media asset management feature set. Using FastTracker, you can develop simple workflows without the complexity and cost of traditional MAM systems. Easy to learn and quick to use, you'll find this asset management system to be a huge benefit in almost any facility.
FastTracker now includes timecode burn-in for proxy clips, compatibility with Avid Op-atom, as well as Redcode and P2 media types. Also, users can now download proxy and source files through the FastTracker interface without access to the source storage locations. With duplicate and lost file tracking, FastTracker keeps users updated on the current location of media files that have been indexed. When moving or copying files to archive locations like Cloud and LTO, FastTracker maintains the record of the archive location, and will restore the files from Cloud or LTO on demand.
Indexing can be automatic on a global scale, by watch folder for specific catalogs, or manual with drag-and-drop of folders. Metadata tags are customizable, to add as much useful data to asset records as possible.
An integrated media player for preview and a separate full resolution player is included, supporting desktop playback of hundreds of formats and codecs. There is no external workstation required for FastTracker, as the software, database, and encoded proxies are stored on the Facilis server.
Facilis Edge Sync starts with Facilis Object Cloud software which utilizes a native Facilis virtual volume as the local disk cache and adds a dedicated Azure Cosmos DB database to synchronize multiple desktops together into a single file system. With the Facilis Edge Node installed in remote locations, the path of the media files and project files are exactly the same, whether you're working in-facility or at home. Any changes or additions to the project files are instantly updated in every location.
"IBC Showcase allows us to connect virtually with many customers and partners to share our latest news. We have many exciting Shared Storage, MAM, Cloud and Remote Access solutions to present." said Jim McKenna, Chief Marketing Officer at Facilis Technology. "We continue to innovate our shared file system and storage architecture, and add tools to collaborate over the internet, enabling secure access for remote workgroups, producers and stakeholders to in-facility assets through cloud workflows that are as simple as they are powerful."
About Facilis Technology
Founded in 2003, Massachusetts-based Facilis Technology, Inc. designs and builds premium, turnkey shared storage solutions for collaborative media production across all content creation workflows. Their production-proven solutions are designed for use by the craft editor, facility engineer, and owner-operator alike. Flexible, scalable and compatible with industry-standard creative solutions, Facilis' products blend seamlessly into any network environment and have been installed in more than 3,000 facilities worldwide. https://facilis.com/
All trademarks and copyrights are property of their respective owners. All rights reserved.
For more information, please contact:
Facilis Technology
108 Forest Avenue - Suite 200
Hudson, MA 01749
978-562-7022
Kelly Taranto – Sr. Sales & Marketing Manager
pr@facilis.com
http://www.facilis.com