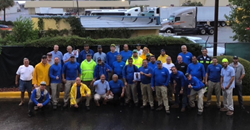 The time to start planning is now.
TAMPA, Fla. (PRWEB) May 29, 2019
The 2019 Atlantic Hurricane Season is only three days away. Even though NOAA predicts a near-average number of storms this season, which runs from June 1 through November 30, that still means we could experience up to 15 named storms and 4 major hurricanes. It doesn't take a major hurricane to create major damage, so facility managers turn to their MaintenX Disaster Recovery and Rapid Response Team to help prepare and plan for storm readiness and recovery when the extreme weather passes.
MaintenX, one of the nation's largest facility maintenance companies, takes pride in their ability to provide best-in-class disaster response to clients from coast to coast. However, MaintenX knows a major component of successful recovery from a storm event is preparation.
Facilitator, the official publication of the Restaurant Facility Management Association, recently published a piece on hurricane preparedness written by Bill Schaphorst, MaintenX's VP of Development.
"We learned a lot from the intensity of the 2017 season and the devastation brought in 2018 by Florence and Michael," Schaphorst said. "Planning ahead for your facility needs, power restoration, and staff safety allows for a quicker, more efficient return to business as usual."
While hurricanes are currently top of mind for many along the Gulf and Atlantic coasts, businesses anywhere can be impacted by extreme or unexpected weather including fires, floods, tornadoes, and snowstorms. That's why MaintenX has invested over $1 million in emergency response equipment like commercial generators, sandbaggers, and fueling trucks to help support customers throughout any disaster.
"The time to start planning is now," said Schaphorst.
Having a formal plan in place can help facility managers ensure they are prepared and have the right supplies and communication channels ready. This preparation helps combat the last-minute rush for materials and vendors that can cause facility managers to find themselves empty handed. For example, plywood may be plentiful five days before the storm but virtually nonexistent in the 48 hours before landfall.
To learn more about MaintenX and variety of services they provide, visit http://www.maintenx.com.
ABOUT MAINTENX INTERNATIONAL:
MaintenX International is a fully licensed, facilities repair company. As one of the largest national self-performing facility maintenance and repair companies in the U.S., MaintenX has created a wide network of knowledgeable and professional technicians throughout the country. With their team of well-trained technicians, MaintenX self-performs and manages facility maintenance for their clients. In the event there is not a MaintenX technician in an area, the company has established a network of preferred vendor partners throughout the country for continued superior service for their clients. For more than 40 years, MaintenX has been expertly serving multi-location retail stores, restaurant chains and Fortune 500 companies nationwide.