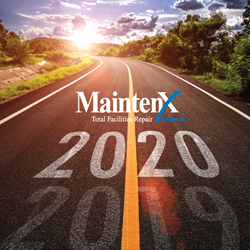 Scheduled maintenance provides a number of benefits, from reducing unexpected costs to increasing the life of expensive equipment.
TAMPA, Fla. (PRWEB) January 27, 2020
The new year is fully underway. Alongside their daily tasks, stresses and competing priorities, facility managers are constantly faced with unexpected projects, repairs and other facility issues that must be addressed. Even if they have the right intentions to create a thoughtful, comprehensive maintenance plan to start the new year, many facility managers find themselves falling behind and unable to get the plan in place. That's where MaintenX steps in, shines, and delivers.
"The MaintenX Super Service Team knows how to ask the right questions to understand each facility's unique needs," said Bill Schaphorst, MaintenX's VP of Business Development. "That way they can work in lockstep with facility managers to create a plan that meets the budget, availability and specific needs for any site."
Whether a facility contains complicated systems or common items like Roof Top Units, preventative maintenance is proven to more than pay for itself and reduce downtime. Preventative maintenance eliminates repairs and helps to identify aged equipment that should be targeted for replacement.
The goal is to reduce the need for reactive maintenance, which creates interruptions, delays delivery of goods, impacts employees' ability to work and can have a dramatic impact on the customer experience. Scheduled maintenance provides a number of benefits, from reducing unexpected costs to increasing the life of expensive equipment. MaintenX has more than 40 years of experience in helping facilities create preventative maintenance plans that address every issue, from roofing and waterproofing to plumbing and parking lot repair.
Preventative maintenance has been proven to improve a company's bottom line. For example, employees who work in a building with a well-maintained HVAC system are more likely to experience a consistent and comfortable temperature, which helps them be more productive. Also, shoppers are more likely to have a pleasant experience when temperatures are kept comfortable by a properly functioning HVAC system, encouraging them to spend more time exploring inventory and making purchases.
From coast to coast, MaintenX's team of technicians is ready to help facility managers keep their facility maintenance resolutions. For more information about MaintenX or to begin creating a personalized preventative maintenance plan, visit http://www.maintenx.com.
ABOUT MAINTENX INTERNATIONAL:
MaintenX International is a fully licensed, facilities repair company. As one of the largest national self-performing facility maintenance and repair companies in the U.S., MaintenX has created a wide network of knowledgeable and professional technicians throughout the country. With their team of well-trained technicians, MaintenX self-performs and manages facility maintenance for their clients. In the event there is not a MaintenX technician in an area, the company has established a network of preferred vendor partners throughout the country for continued superior service for their clients. For more than 40 years, MaintenX has been expertly serving multi-location retail stores, restaurant chains and Fortune 500 companies nationwide.