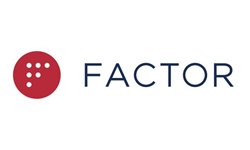 NEW YORK (PRWEB) June 03, 2020
Factor, the leader in next-generation solutions for complex legal work at scale, today announced that John Dillon, former divisional CFO of global consulting firm Mercer, has been named CFO, and Accenture veteran and Axiom Managed Solutions alumna, Roxann Erxleben, will take over as COO. The new hires come as Factor undergoes a rapid expansion of its business after the spinoff of AMS from Axiom in February 2019, AMS's relaunch as Factor in January 2020, and the naming of Varun Mehta as CEO in January.
The collective experience of Factor's world-class leadership team will help propel the company forward in the next phase of legal innovation, according to Factor CEO Varun Mehta.
"Our unique track record of delivering complex legal work at scale coupled with ambitious plans for the future have attracted the talent represented by John and Roxann as we build out a world-class leadership team to meet our growth goals and seize tremendous market opportunities," Mehta said. "Businesses across the globe face many new burdens in the wake of the COVID-19 pandemic, including massive contract remediation projects. This is not a time to retreat. Factor will continue to invest in innovative leadership and state-of-the-art technology to help organizations alleviate the challenges of performing complex legal work efficiently, cost-effectively and at scale."
As CFO, Dillon will focus on driving accelerated revenue growth by helping the company create increasing value for Factor's current and prospective clients. While serving as CFO, Global Business Solutions at Mercer, Dillon oversaw a portfolio of global businesses and operating centers that generated over $1B of revenue, led line-of-business strategic planning, and was responsible for financial due diligence for Mercer M&A transactions, investments, and partnerships. Dillon's distinguished career includes stints as an investment banker at Goldman Sachs, Founder and CEO of search aggregation site Weddingbook, Inc. and a series of progressively responsible positions at Mercer – from corporate strategy partner to divisional CFO. Dillon earned an MBA at The Wharton School, and BA at Duke University.
"Factor is a trailblazer with strong offerings, high-profile clients, and a reputation for solving complex legal challenges on a global scale," said Dillon. "I am impressed by Factor's leadership, commitment to innovation, and entrepreneurial mindset. I look forward to helping Factor create new and enhanced solutions that empower corporate law departments to address the significant cost pressures they face while focusing their in-house resources on mission-critical issues."
As COO of Factor, Erxleben's emphasis is to establish world-class client service and delivery capabilities, with a long-term vision of combining unlimited global talent, process, and advanced technologies to deliver even faster, more impactful client value. Beginning in 2018, she was Senior Vice President of Innovation at Axiom and Head of Client Services. Before her tenure at Axiom and AMS, Erxleben spent 28 years at Accenture, including 11 years as a Managing Director, with many global leadership roles in service management, solution development, shared services, and client delivery. During this time, she managed a business cost portfolio of over $225 million and teams of more than 4,000 employees worldwide.
"Initially, my focus will be on building our core business foundation, transforming client services, and improving service delivery and direct interaction with clients," said Erxleben. "Factor is extremely well-positioned, with our unique skillset, to help legal organizations reimagine how they bring additional value back to business. I love our mission, and I'm excited to be at the forefront of the industry during such a transformational time."
About Factor
Factor, formerly Axiom Managed Solutions, is the leader in next-generation solutions for complex legal work at scale, ranging from deadline-driven regulatory projects to long-term managed services. Factor combines the expert lawyers, market know-how and experience of traditional law with the process efficiency, smart legal technology, and data-driven project management of New Law to bridge a huge gap in the market. The company is comprised of more than 500 lawyers, legal specialists, technologists, and process consultants with offices in New York, Chicago, London, Belfast, and Poland. For more information, go to https://www.factor.law/ or LinkedIn.
Media Contacts
Erin Harrison (U.S.)
Plat4orm
erin@plat4orm.com
Nick Jones (U.K.)
Plat4orm
nick@plat4orm.com