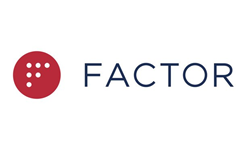 NEW YORK (PRWEB) July 28, 2021
In another step toward broader collaboration with the global legal ecosystem, New Law pioneer Factor today announced its inaugural partnership program, Factor Connect, bringing together world-class legal technology providers and specialists to help accelerate innovation in the delivery of legal services.
Factor Connect will be an ongoing program to help general counsel navigate an unprecedented range of challenges and enable better business and legal outcomes together with the industry's most creative, proven technology providers. With the help of Factor's unique expertise in applying legal and technology capabilities to complex problems, partner companies will see their products used in creative new ways and in combination with other advanced technologies and services to provide optimal benefits to clients.
Factor's partner program launches today with an initial cohort of five participating companies, whose tools Factor has thoroughly tested and validated both internally and among clients for effectiveness and fit with Factor's methodologies. Each partner also comes from a distinct segment of the legal technology market. Factor will work with:

"The need for meaningful innovation and advanced technology has never been greater, and the stakes have never been higher. Factor Connect was created out of a need to better address a broad swath of client problems. We are all stronger collectively than any one of us is alone," said Varun Mehta, CEO of Factor. "Coming together today is just the beginning – announcing our partnership program is also an open invitation to the market to come and work with us."
Since relaunching as Factor in 2020, the company has formed strategic partnerships based on the premise that highly skilled specialists with deep expertise in individual industries, domains or parts of the value chain are required to solve the legal industry's most challenging and expensive problems. For example, Factor is a founding member of LexFusion, a go-to-market collective representing the most mature categories in the market.
Factor's partners are carefully vetted not just for their technical capabilities and their knowledge of legal, but also for their ability to adapt and work effectively with a diverse network of teams from Factor as well as with clients and with other partners. "They know that intensive, focused, and thoughtful collaboration is at the heart of Factor's business model and our ethos as a company," Mehta added.
"As dual citizens in the worlds of business and legal, Factor's mission is to deliver better outcomes for both. Our partnerships with Acadia, Agiloft, BlackBoiler, Kira Systems, and Priori are only the beginning," said Ed Sohn, Head of Solutions and Product at Factor. "The future of legal will be driven by connected specialization. By taking a communal approach, we integrate the best of breed to best meet client demands for more efficiency and value."
About Factor
Factor is the leader in solutions for complex legal work at scale, ranging from deadline-driven regulatory projects to long-term managed services. Factor combines expert legal resourcing and market know-how of Traditional Law, with the process efficiency, smart legal technology, and data-driven project management of New Law to bridge a huge gap in the market. The company is comprised of more than 500 lawyers, legal specialists, technologists, and process consultants with offices in New York, Chicago, London, Belfast, and Poland. Factor is not a law firm and does not provide legal advice. For more information, go to https://www.factor.law or LinkedIn.
Media Contacts
Erin Harrison (U.S.)
Plat4orm
erin@plat4orm.com
Nick Jones (UK)
Plat4orm
nick@plat4orm.com