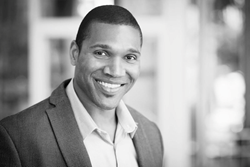 NEW YORK (PRWEB) November 16, 2020
Factor, the leader in solutions for complex legal work at scale, today announced award-winning corporate lawyer Michael Callier – known for leading cross-functional teams to design, develop and deploy innovative legal solutions – has joined the company as VP, Head of Solutions and Consulting. Callier brings to Factor more than 16 years of experience in the legal industry guiding in-house legal operations and transformation efforts, as a consulting entrepreneur, and as a former general counsel and practicing attorney. As part of his new role, Callier will oversee Factor's forthcoming solutions consulting practice, which will launch in the coming months.
Before joining Factor, Callier was co-founder and partner at Pivot Legal Solutions, a leading legal services organization that works at the intersection of legal departments, outside counsel and alternative service providers to build and implement collaborative solutions to real-world problems. Callier previously served as senior corporate counsel at the $3 billion food company Darigold, Inc., where he provided primary legal counsel and operational leadership across the organization. He also served as corporate counsel at Nike, where he represented the company on commercial transactions and provided employment law consulting to internal business stakeholders.
As legal process strategist at Davis Wright Tremaine, Callier made a crucial contribution to its De Novo legal innovation team, which has earned national recognition for legal innovation, efficiency, and effectiveness, including solutions designed and deployed for Fortune 100 technology and telecommunications companies.
"Michael brings an impressive body of experience from across the entire legal ecosystem. Using his personal knowledge of both legal departments and law firms, he has developed a unique approach to problem solving, integrating substantive law with legal operations to drive value," said Ed Sohn, SVP and Head of Solutions. "Most importantly, Michael approaches every client and every colleague with empathy and respect, an uncommon quality in our industry."
Callier added: "The legal industry is at a critical juncture where non-traditional legal service providers have the capacity, expertise and footprint to provide value to clients well beyond simple, high-volume administrative tasks. For more than a decade, Factor has developed the capability, know-how, and the culture to deliver highly complex work at high quality, volume and velocity. I'm excited to join and contribute to a great company, dynamic culture and seasoned leadership team."
In its inaugural year as an independent company, Factor has built a stellar management team in bringing on senior team members who have deep experience across the industry and in professional services. With partners, new and existing clients, Factor's board and investors, Factor is focused on driving meaningful change in the way legal work gets done for general counsel and the companies they represent.
About Factor
Factor is the leader in solutions for complex legal work at scale, ranging from deadline-driven regulatory projects to long-term managed services. Factor combines expert legal resourcing and market know-how with the process efficiency, smart legal technology, and data-driven project management of New Law to bridge a huge gap in the market. The company is comprised of more than 500 lawyers, legal specialists, technologists, and process consultants with offices in New York, Chicago, London, Belfast, and Poland. Factor is not a law firm and does not provide legal advice. For more information, go to https://www.factor.law/ or LinkedIn.
Media Contacts
Erin Harrison (U.S.)
Plat4orm
erin@plat4orm.com