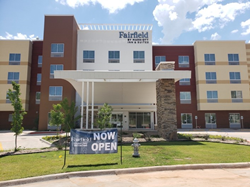 DUNCAN, Okla. (PRWEB) June 18, 2020
The 80-room Fairfield by Marriott hotel in Duncan, Oklahoma is now open and accepting reservations serving the Duncan, Oklahoma area. On June 16, 2020, the Fairfield by Marriott Inn & Suites Duncan opened their doors to a fresh new look with new décor that provides guests with a feeling of warmth and calm while traveling with our Marriott Commitment to Cleanliness. Located at 1450 Apollo Drive, the Fairfield by Marriott Inn & Suites Duncan will operate as a Marriott franchise, owned by Apollo Hospitality and managed by Integral Hospitality of Birmingham, Alabama. General Manager Kendra Blake leads the management team at the property for Integral Hospitality and Apollo Hospitality. Kendra has 19 years of hospitality experience with some of the major brands in the lodging industry.
The Fairfield by Marriott Inn & Suites Duncan offers guests convenient access to the Duncan Golf and Tennis Club, Main Street Duncan, the Chisholm Trail Heritage Center, Halliburton Park, and the Rock Island 905 Railroad Museum.
"Delivering both function and comfort, our new design and décor elevate the Fairfield brand, setting a new standard in the moderate tier category," said Janis Milham, Senior Vice President and Global Brand Leader, Classic Select Brands at Marriott International. "At Fairfield by Marriott, we provide an easy, positive and productive travel experience, as well as the promise of consistent and reliable service at an exceptional value. The Fairfield by Marriott Inn & Suites Duncan is a truly stunning example of the brand's contemporary look and feel, and we are pleased to introduce Fairfield by Marriott hotels in the Duncan area."
The new décor package is warm, timeless, forward-thinking, and inviting with simple nods back to the brand's heritage. Specific elements meant to evoke feelings from the Fairfield Farm include a farmhouse table in the lobby for gathering and connecting, photography from the Fairfield Farm serving as artwork in the lobby and guest rooms, natural materials and unique textures, and a history wall in every property showcasing the brand's roots.
The new guestroom design is impactful and unique, while addressing the functional needs of the Fairfield guest for a seamless experience. The room was designed with the modern traveler in mind, allowing for productivity on the road without overcomplicating the guestroom. Each room features a modern lounge chair, serving as both functional and comfortable to either work or relax in. The artwork in the room takes center stage with the window treatment acting as a focal point, displaying photography taken at the Fairfield Farm. The material is sheer and allows light to pass through the photography, warming up the room and creating a comfortable environment. The guestrooms also feature a mobile desk, a comfortable couch, refrigerator, coffeemaker and microwave.
Additional hotel amenities include an indoor swimming pool, an outdoor patio with a fire pit, a fitness center, business services, valet laundry service, complimentary Wi-Fi, and two meeting rooms with a combined 539 square feet of meeting space to accommodate functions of up to 37 people. A complimentary hot breakfast featuring oatmeal, scrambled eggs, sausage, make-your-own waffles and other healthy items, such as fruit, yogurt, and whole grain cereals and breads is also available.
OUR FAIRFIELD INN & SUITES BY MARRIOTT DUNCAN COMMITMENT TO CLEAN:
Marriott has put in place a multi-pronged approach designed to meet the health and safety challenges presented by COVID-19. Below is an overview of the key components of Marriott's Commitment to Cleanliness.
Marriott Global Cleanliness Council: Consisting of in-house and outside experts in food and water safety, hygiene and infection prevention, and hotel operations, the council will work to develop a new generation of global hospitality cleanliness standards, norms and behaviors for our more than 7,300 properties around the globe.
New Cleaning Technologies: While our council develops its work, we have initiated plans to roll out enhanced technologies at our properties over the next few months, including electrostatic sprayers and the highest classification of disinfectants recommended by the Centers for Disease Control and Prevention and World Health Organization to sanitize surfaces throughout hotels.
Cleaning Regimen Changes: When guests check into our hotels over the next few months, they will notice a number of additions to our cleaning regimen designed to set an even higher standard of cleanliness for the hotels as well as modifications to associate-guest protocols developed to be consistent with recommended social distancing guidelines.
For more information or to make reservations please call 580-736-7540 or visit http://www.marriott.com/lawdu, visit us on Facebook or follow us @fairfieldinnduncan on http://www.instagram.com/fairfieldinnduncan.