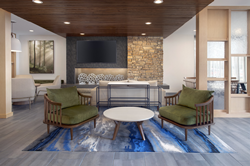 Delivering both function and exceptional style, our new design and décor elevate the Fairfield brand, setting a new standard in the moderate tier category
METAIRIE, La. (PRWEB) May 16, 2019
The 124-room Fairfield by Marriott Inn & Suites in Metairie, Louisiana opened their doors Wednesday, May 15, 2019 with the Fairfield Inn & Suites newest design and décor. Located at 2710 Severn Avenue, the Fairfield Inn & Suites New Orleans Metairie will operate as a Marriott franchise, owned and managed by Baywood Hotels of Columbia, Maryland.
Whether traveling for business or pleasure, the Fairfield Inn & Suites New Orleans Metairie offers guests convenient access to the French Quarter, Louis Armstrong International Airport, the Mercedes-Benz Superdome, Tulane University, Loyola University and the New Orleans Ernest N. Morial Convention Center.
"Delivering both function and exceptional style, our new design and décor elevate the Fairfield brand, setting a new standard in the moderate tier category," Ricky Wood, General Manager. "At Fairfield Inn & Suites, we provide an easy, positive and productive travel experience, as well as the promise of consistent and reliable service at an exceptional value."
Once inside, guests experience the hotel's open public space featuring natural light and views throughout the lobby to connect the indoors with the outdoors. Consistent with the Fairfield brand's heritage of great service and a warm welcome, guests are greeted by associates who can easily move from behind the angled front desk to interact and answer questions. Guests can also unwind in the lobby's inviting living area ― whose focal points include a natural stone hearth, organic-shaped sofa and lounge chair, and unique local features — or they can grab a drink or snack item from the 24/7 Corner Market.
Flexible and functional, the hotel guest room includes a well-designed work area, an ergonomic chair, task lighting and electrical outlets where guests need them. A curved, mobile desk enables guests to create their own work space, while also optimizing their television viewing. The new design also places the sleeping area toward the middle of the room, helping to give guests a better night's sleep on plush mattresses, as well as easier access to the bathroom and wardrobe. The bright, spacious living area also offers a comfortable couch, refrigerator, coffeemaker and microwave. Each room also provides the latest in-room entertainment technology, allowing guests to access their Hulu and Netflix accounts, as well as YouTube and Pandora, through the Smart TV.
Additional hotel amenities include an outdoor swimming pool, a fitness center, a meeting room, complimentary laundry service, complimentary Wi-Fi, as well as fax and copy services, and offers free parking for guests. A complimentary hot breakfast, featuring oatmeal, scrambled eggs, sausage, make-your-own waffles and other healthy items, such as fruit, yogurt, and whole grain cereals and breads is also available.
About Baywood Hotels Inc.
Established in 1975, Baywood Hotels, Inc. is a fast-growing hospitality management and development company, operating $1 billion in assets and employing over 3,000 associates nationwide. The company is headquartered in Columbia, MD and has regional offices in Denver, CO; Miami, FL; Rochester, NY, San Antonio, TX and Northern VA. In each of its regions, the private hotel ownership company is consistently recognized as an innovative leader in the hotel industry, focusing on product concept and development and the outstanding management of its assets. The focused vision, strong values and aggressive long-range strategy of Baywood Hotels has helped the company develop reputable and well-branded hotels in areas where Baywood has competitive expertise and partnerships. Baywood Hotels' portfolio includes well-known brands, such as Marriott, Hilton and InterContinental Hotels Group, as well as several independent brands. Contact us through Facebook or our website or connect with us on - LinkedIn.