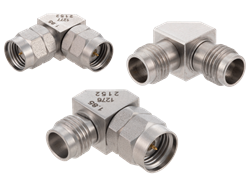 "Our enhanced line of high-frequency, 1.85 mm right-angle adapters equips engineers with a collection of viable interconnect options to address a variety of application requirements," said Amar Ganwani, Senior Product Manager
IRVINE, Calif. (PRWEB) December 07, 2022
Fairview Microwave, an Infinite Electronics brand and a leading provider of RF, microwave and millimeter-wave products, has broadened its line of high-frequency RF adapters, which are engineered for optimal performance in space-limited applications requiring high-frequency adapters.
Fairview's new series of 1.85 mm right-angle adapters provides 90-degree turns in spaces too small to accommodate the bending of coaxial cables. They also prevent excessive strain on cables used in tight spaces.
The new 1.85 mm right-angle adapters are manufactured to precise industry specifications and are widely used in the military and commercial markets for applications such as satcom, wireless communications, test and measurement, and R&D.
Key features of these new 1.85 mm adapters include a maximum mode-free operating frequency of 67 GHz, a low VSWR of 1.35 (max) and intermateability with 2.4 mm connectors. They feature rugged stainless-steel construction for enhanced repeatability and reliability.
"Our enhanced line of high-frequency, 1.85 mm right-angle adapters equips engineers with a collection of viable interconnect options to address a variety of application requirements," said Amar Ganwani, Senior Product Manager.
The full line of 1.85 mm right-angle adapters and other RF adapters is in-stock and ready for same-day shipment with no minimum order quantity. For inquiries, contact Fairview Microwave at +1-972-649-6678.
About Fairview Microwave:
A leading supplier of on-demand RF and microwave products since 1992, Fairview Microwave offers immediate delivery of RF components, including attenuators, adapters, coaxial cable assemblies, connectors, terminations and much more. All products are shipped same-day from the company's ISO 9001:2015-certified production facilities in Lewisville, Texas. Fairview is an Infinite Electronics brand.
About Infinite Electronics:
Based in Irvine, Calif., Infinite Electronics offers a broad range of components, assemblies and wired/wireless connectivity solutions, serving the aerospace/defense, industrial, government, consumer electronics, instrumentation, medical and telecommunications markets. Its brands are Pasternack, Fairview Microwave, L-com, MilesTek, ShowMeCables, NavePoint, INC Installs, Integra Optics, PolyPhaser, Transtector, KP Performance Antennas, RadioWaves and Aiconics. Infinite serves its customers with deep technical expertise and support, with a broad inventory available for immediate shipment, fulfilling unplanned demand for engineers and technical buyers. It is a Warburg Pincus portfolio company.