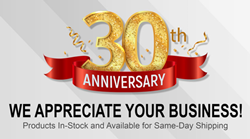 "We thank our customers, employees and partners for helping to get us to where we are today," said Penny Cotner, President and CEO of Infinite Electronics.
IRVINE, Calif. (PRWEB) December 21, 2022
Fairview Microwave Inc., an Infinite Electronics brand and a leading provider of on-demand RF, microwave and millimeter-wave components, announced today it is celebrating 30 years in business.
Founded in 1992, Fairview Microwave (originally the Sun Moon Electronics Company, or SM Electronics) pioneered same-day fulfillment of RF and microwave components and cable assemblies to meet the urgent needs of its customers.
Located in Lewisville, Texas, just north of the Dallas-Fort Worth metroplex, Fairview continues to prosper as a premier supplier of passive and active RF/microwave components across the globe. Fairview offers a broad selection of products available for same-day shipping. It also provides custom cable design and assembly for unique configurations, and technical expertise in bringing new products to the market and solutions for engineers.
After almost 20 years spent earning global recognition for its high-quality components and assemblies and providing outstanding customer service, Fairview was acquired by Infinite Electronics in 2010. Infinite is a leading global supplier of electronic components, serving engineers' urgent needs through a family of trusted brands.
"We are so thankful to be celebrating Fairview Microwave's 30th anniversary. The keys to Fairview's success have been providing high-quality products that are shipped the same day as ordered and by offering unparalleled technical and customer support. We thank our customers, employees and partners for helping to get us to where we are today," said Penny Cotner, President and CEO of Infinite Electronics.
Fairview continues to grow and add new products to its portfolio to meet the specific requirements of RF/microwave applications. To view the company's latest new-product releases, click here.
For product inquiries, contact Fairview Microwave at +1-972-649-6678.
About Fairview Microwave:
A leading supplier of on-demand RF and microwave products since 1992, Fairview Microwave offers immediate delivery of RF components including attenuators, adapters, coaxial cable assemblies, connectors, terminations and much more. All products are shipped same day from the company's ISO 9001:2015-certified production facilities in Lewisville, Texas. Fairview is an Infinite Electronics brand.
About Infinite Electronics:
Based in Irvine, Calif., Infinite Electronics offers a broad range of components, assemblies and wired/wireless connectivity solutions, serving the aerospace/defense, industrial, government, consumer electronics, instrumentation, medical and telecommunications markets. Its brands are Pasternack, Fairview Microwave, L-com, MilesTek, ShowMeCables, NavePoint, INC Installs, Integra Optics, PolyPhaser, Transtector, KP Performance Antennas, RadioWaves and Aiconics. Infinite serves its customer base with deep technical expertise and support, with a broad inventory available for immediate shipment, fulfilling unplanned demand for engineers and technical buyers. It is a Warburg Pincus portfolio company.