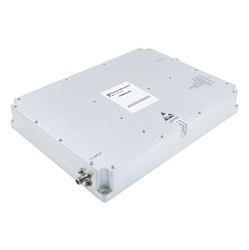 "Designers will find these broadband high-power amplifiers extremely useful for test and measurement applications, as well as transmitting RF signals for radar, military radio, and telecommunications systems," said Tim Galla, Senior Product Manager
IRVINE, Calif. (PRWEB) November 07, 2022
Fairview Microwave, an Infinite Electronics brand and a leading provider of RF, microwave and millimeter-wave products, has broadened its line of high-power amplifiers designed for multiple market applications in VHF, UHF, L, S, C, X and Ku bands.
This innovative line of broadband high-power amplifiers includes mainly GaN and some LDMOS semiconductor designs with detailed datasheets. GaN performance benefits are the most desirable for broadband applications and exhibit high efficiency in a smaller package size.
These high-power amplifiers provide saturated output power levels ranging from 10 watts to 200 watts. Amplifier designs are available in compact coaxial packages covering broadband frequencies ranging from 1.5 MHz to 18 GHz.
Fairview's high-power amplifiers are available in rugged, military-grade coaxial packages with operational temperatures from -40 to +85 degrees Celsius. The highly efficient Class AB designs feature 50-ohm input and output matched ports, built-in control and protection circuits, and D-sub connectors for DC bias, command control, and monitoring functions.
"Designers will find these broadband high-power amplifiers extremely useful for test and measurement applications, as well as transmitting RF signals for radar, military radio, and telecommunications systems," said Tim Galla, Senior Product Manager.
Fairview's new high-power amplifiers are in-stock and ready for immediate shipment with no minimum order quantity. For inquiries, contact Fairview Microwave at +1-972-649-6678.
About Fairview Microwave:
A leading supplier of on-demand RF and microwave products since 1992, Fairview Microwave offers immediate delivery of RF components including attenuators, adapters, coaxial cable assemblies, connectors, terminations and much more. All products are shipped same-day from the company's ISO 9001:2015-certified production facilities in Lewisville, Texas. Fairview is an Infinite Electronics brand.
About Infinite Electronics:
Based in Irvine, Calif., Infinite Electronics offers a broad range of components, assemblies and wired/wireless connectivity solutions, serving the aerospace/defense, industrial, government, consumer electronics, instrumentation, medical and telecommunications markets. Its brands are Pasternack, Fairview Microwave, L-com, MilesTek, ShowMeCables, NavePoint, INC Installs, Integra Optics, PolyPhaser, Transtector, KP Performance Antennas, RadioWaves and Aiconics. Infinite serves its customers with deep technical expertise and support, with a broad inventory available for immediate shipment, fulfilling unplanned demand for engineers and technical buyers. It is a Warburg Pincus portfolio company.