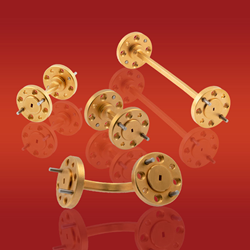 "Our new series of high frequency waveguide straight sections, bends and twists is designed to fulfill the demand for waveguide components supporting frequencies up to 220 GHz, offering our customers even more same-day shipped waveguide component options," said Steven Pong, Product Line Manager
IRVINE, Calif. (PRWEB) March 10, 2020
Fairview Microwave Inc., an Infinite Electronics brand and a leading provider of on-demand RF, microwave and millimeter wave components, has introduced a new line of waveguide transmission components that are ideal for radar, satellite communication and airport security system applications.
Fairview's new waveguide bends, twists and straight sections feature high frequency ranges from 90 GHz to 220 GHz in 3 waveguide bands. These include waveguide sizes of WR-8, WR-6 and WR-5 and UG-387/U mod round cover style flanges. The waveguide bends are available in 90° E-plane and 90° H-plane configurations. The waveguide twists are available in 90°, 45° right-hand and 45° left-hand configurations. And the waveguide straight sections are available in 1", 3", 6", 9" and 12" lengths. Furthermore, all of these new high frequency waveguide components feature low VSWR performance of 1.15:1 typical.
"Our new series of high frequency waveguide straight sections, bends and twists are designed to fulfill the demand for waveguide components supporting frequencies up to 220 GHz, offering our customers even more same-day shipped waveguide component options," said Steven Pong, Product Line Manager, RF components.
Fairview Microwave's new high frequency waveguide straight sections, bends and twists are all in-stock and available for immediate shipment, with no minimum order required.
For inquiries, Fairview Microwave can be contacted at +1-972-649-6678.
About Fairview Microwave:
A leading supplier of on-demand RF and microwave products since 1992, Fairview Microwave offers immediate delivery of RF components including attenuators, adapters, coaxial cable assemblies, connectors, terminations and much more. All products are shipped same-day from the company's ISO 9001:2015 certified production facilities in Lewisville, Texas. Fairview Microwave is an Infinite Electronics brand.
About Infinite Electronics:
Based in Irvine, Calif., Infinite Electronics offers a broad range of components, assemblies and wired/wireless connectivity solutions, serving the aerospace/defense, industrial, government, consumer electronics, instrumentation, medical and telecommunications markets. Infinite's brands include Pasternack, Fairview Microwave, L-com, MilesTek, Aiconics, KP Performance Antennas, PolyPhaser, Transtector, RadioWaves, ShowMe Cables, INC-Installs and Integra Optics. Infinite Electronics serves a global engineering customer base with deep technical expertise and support, with one of the broadest inventories of products available for immediate shipment.