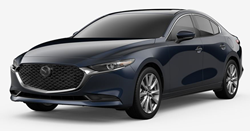 SAVANNAH, Ga. (PRWEB) April 28, 2020
Fairway Mazda, a local Mazda dealership in Savannah, is currently offering a special financing rate to drivers in the Savannah area. Customers who lease a new Mazda vehicle right now at the dealership can get a zero percent APR financing rate for up to 63 months.
Not all customers can qualify for this special offer. Customers who are interested in purchasing a new Mazda vehicle at this rate should apply for credit approval through Mazda Financial Services. Fairway Mazda offers online credit approval through its website, fairwaymazda.com. Once on the website, customers should select "Online Credit Approval" from the "Finance" drop-down menu at the top of the site. This will take them to a quick form that can be submitted to the dealership for approval.
Other website functions that customers can use include the comprehensive online inventory that Fairway Mazda offers. This online inventory is searchable and informative, allowing drivers to view important information about available vehicles from their home. After researching and picking out a vehicle, customers can select "Special Offers" from the "Specials" drop-down menu to see what special rates are currently available.
Drivers can also find contact information online. Drivers who are interested in learning more about special offers, online credit approval or Mazda vehicles are encouraged to contact a staff member at Fairway Mazda. Drivers can find contact information on "Our Team" and "Contact Us" under the "About Us" drop-down menu. They can call, email or visit in person to contact the dealership.