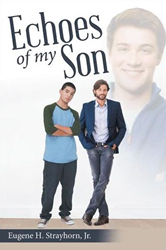 BIGFORK, Mont. (PRWEB) September 24, 2018
Author Eugene H. Strayhorn, Jr. has released his debut Christian novel, "Echoes of My Son," which follows characters as they learn to exercise faith and forgiveness through hardships, leading to eventual hope. Reid Scott, grieving Silicon Valley Executive, and Ruben Walker, eldest sibling in a broken home, form a close bond when Reid begins volunteering at the homeless shelter Ruben stays at, feeling like father and son. Little do they know, they were connected by a dark tragedy long before they met.
Strayhorn wrote this book to spread the Christian message of faith. He hopes the story will remind readers what it means to live by faith, to forgive the unforgiveable, and to love unconditionally.
"I believe God can turn any of life's horrible events into positive outcomes," the author said.
"Echoes of My Son" will resonate with anybody who has experienced hardship and come out on the other side and will remind readers of the strength of keeping the faith during good times and bad.
"Echoes of My Son"
By Eugene H. Strayhorn, Jr.
ISBN: 9781489715845 (softcover); 9781489715838 (hardcover); 9781489715821 (electronic)
Available at the LifeRich Publishing Online Bookstore, Amazon and Barnes & Noble
About the author
Eugene Strayhorn is a retired physician who for twenty-five years practiced internal medicine and then emergency medicine. For many years he served as the medical director of a twenty-five-man multi-specialty group. Following his retirement from active medical practice, he has devoted himself to writing. As a lifelong follower of Jesus, he has gained an intimate knowledge of biblical precepts. For the past eighteen years he has facilitated a men's Bible study that focuses exclusively on incorporating the word of God into everyday life.
###
Review Copies & Interview Requests:
LAVIDGE – Phoenix
Kiersten Woglom
480-998-2600 x 586
kwoglom(at)lavidge(dot)com