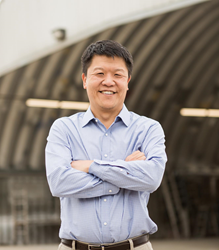 If you're curious about getting container-based structures through the permitting process, this is the session for you
AUSTIN, Texas (PRWEB) May 16, 2019
On May 22, Falcon Structures CEO, Stephen Shang will lead a session on the safe use of modified shipping containers at the annual North Texas Building Professionals Institute (BPI). In conjunction with the Building Officials Association of Texas (BOAT), the BPI leads meetings around Texas educating building professionals on the latest changes to building code. The meeting will run from May 20 – May 23 and take place in the Irving Conference Center at 500 W Las Colinas Blvd, Irving, Texas 75039.
"If you're curious about getting container-based structures through the permitting process, this is the session for you," said Shang.
The North Texas BPI is open to everyone from building officials and inspectors, to architects and electricians who want to learn more about building codes in Texas. As a relatively new trend, shipping container-based structures have posed challenges to unfamiliar building code officials. Shang hopes to demystify the container permitting process for building officials and developers alike.
In his presentation, titled "Containers Used in Commercial Applications," Shang will cover recent developments in the building code addressing shipping containers including: International Code Council's (ICC) acceptance criteria for shipping containers to be used as building materials (AC462); the International Building Code's (IBC) container-specific additions to chapter 31; and the supporting guidelines for the additions to Chapter 31.
Shang previously gave his presentation at the Central Texas BPI meeting in Austin, Texas. Thanks to the close proximity to Falcon Structures' headquarters, he was able to give session participants a tour of the Falcon Structure's plant. The tour's immersion gave participants a sense of the quality control required to produce container modules safe for use as building materials.
"Although we're too far away from the conference to do a tour this time, session participants are always welcome to visit our facility should they ever come to Austin, Texas."
After the positive reception to his presentation at the Central Texas BPI in October, Shang was pleased to be invited to repeat his session in Irving. He will also be available to answer questions about shipping containers after the session at networking events.
About Falcon Structures
Founded in 2003, Falcon Structures repurposes steel shipping containers into AC462 code-compliant modules for container-based buildings, as well as single container structures for living, working and storage. Falcon has manufactured container buildings of all sizes including the largest shipping container structure in the United States to date, the 122-container stadium, Fortress Obetz. Falcon's growing client base includes major energy corporations such as Energy Transfer and Duke Energy, defense contractors, construction firms and all branches of the US military.