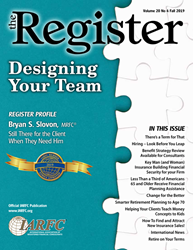 Our recent issue reflects the diversity of contributors with articles that help consultants through their daily routine of practice. Additionally the publication presents Association news and member benefits...Editor-in-Chief, Wendy Kennedy, IARFC Team
MIDDLETOWN, Ohio (PRWEB) October 30, 2019
Bryan S. Slovan, MRFC® is the Register profile – which reviews his company Stuart Financial Group and how he is Still There for the Client When They Need Him. According to Bryan, his trademarked Stuart Retirement Review® is their process designed to help clients achieve simplicity and confidence during their retirement years and is focused around five key areas of their current financial life. Bryan views his recently obtained Master Registered Financial Consultant (MRFC®) credential offered by the IARFC as a commitment to furthering his financial education.
Jaime Bosse, RFC® connects with readers as she promotes her financial concepts on teaching kids how to grow into financially responsible adults. With four kids under the age of six, she outlines financial topics that can be taught to kids at different ages – the goal being to make kids financially savvy and help them navigate the "real world" of finances without a ton of help from their parents.
Jorge Villar weighs in on powering your business growth through seminar marketing. With the statistics in mind that Less Than a Third of American 65 and Older Receive Financial Planning Assistance, he feels consultants are missing out on a huge opportunity. The IARFC will be working with his company LeadingResponse in the near future to bring industry specific topic podcasts to the membership.
Internationally, the Register features recent graduates of IARFC events and educational programs held in Hong Kong, Macau and the Philippines. Graduates who meet the requirement criteria are eligible for the Registered Financial Consultant (RFC®) designation.
From the Trustee Chair and CEO, H. Stephen Bailey, MRFC®, a plan for future change is detailed in From the Chairman's Desk. He outlines plans for a regional structure to build membership and coordinate participation. "It's not a new concept," confirms Bailey, "I have seen it work in many non-profit organizations. Building relationships at the regional level fosters loyalty."
Coming up in November and December, the Register explains the Member-Refer-A Member Drive. Incentives are detailed on how current members can help the Association by referring qualified consultant prospects while putting money in their own pocket.
Balancing out the Fall Edition are feature stories and columns by contributors who are published frequently and opportunities to become Corporate Sponsors for the IARFC National Financial Plan Competition.
To access the Register, visit the IARFC website. Those interested in teaching others about their practice and being published can reach out to Wendy Kennedy at wendy@iarfc.org, Editor-in-Chief. There are opportunities open for 2020 editions.